Pipe Cleaning Nozzle enables use of larger jets.
Press Release Summary: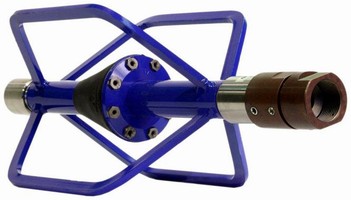 Used in combination with 2 trucks at either end of pipes 15 in. and larger, Orca(TM) Dual Operating Sewer Nozzle is specified with 4 jets for one end of hose and 4 for other end. It uses manifold and conduit system so that each jet has individual tube to carry water, resulting in minimized turbulence in sewer nozzle head as well as optimized stream distance. Nozzle features stainless steal construction throughout and allows companies to utilize current trucks.
---
Original Press Release:

Nozzteq Introduces the Orca(TM)



NozzTeq(TM) Recently Introduced the Orca(TM) Dual Operating Sewer Nozzle. The Orca(TM) Sewer nozzle is used in combination with two trucks. 4 Jets are specified for one end of the hose and 4 for the other end. This allows for larger jets to be used and two trucks at either end of the pipe. The larger the jets you use in return gives you optimum cleaning performance and remove the debris quicker in larger pipes. The Orca(TM) uses a manifold and conduit system so each jet has an individual tube to carry the water for less turbulence in the Sewer nozzle head. Using this system allows the jets stream to be carried longer and farther down the pipe.

The NozzTeq(TM) Orca(TM) pipe cleaning nozzle is for 15" and up pipes that has a lot of debris. This allows companies or entities to utilize there current trucks without having to source out for larger volume trucks. The Orca(TM) is extremely cost effective along with stainless steal construction thru out. For example if you have two 60 Gallon per Minute Jetting Units you would be able to jet the pipe out with 120 GPM. This would then allow you to use larger jets in the rear for more effective debris moving.

More from Electrical Equipment & Systems