Pioneer Offers UL GREENGUARD Flooring/Paneling Products That are Plane-Friendly
Press Release Summary: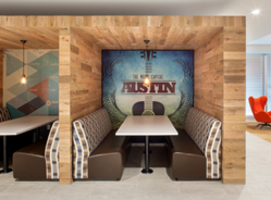 Consist of American Gothic reclaimed ash, chestnut, elm, hickory, white oak and reclaimed mixed oak black & tan
Backed by UL 2818 - 2013 standards that is given to products which meet specific science backed standards for low emissions
---
Original Press Release:
Pioneer Millworks Announces the Launch of Their UL GREENGUARD Gold Line of Engineered Reclaimed and Sustainable Flooring/Paneling Products
With few UL GREENGUARD Gold options in reclaimed wood, 22 of Pioneer Millworks products now add to the green-minded designer's palette.
FARMINGTON, N.Y. (PRWEB) MARCH 21, 2019 - Pioneer Millworks, a reclaimed and sustainable wood products company in New York and Oregon announces their UL GREENGUARD Gold engineered flooring and paneling line of products. The company has won this highly esteemed certification for 22 products in both unfinished and UV Nano composite finishes.
"We have always worked to provide sustainable options to the design & build community, as well as homeowners," says Jonathan Orpin, President of Pioneer Millworks. "Achieving the Gold level of certification through UL GREENGUARD is another way we can bring transparency to our products and offer a high quality, healthy, and planet-friendly alternative to the many plastic and noxious surface options available. It also allows us another chance to really walk the talk of being the most eco-conscious reclaimed wood company today."
The UL GREENGUARD Gold certification, UL 2818 - 2013 Gold Standard for Chemical Emissions for Building Materials, Finishes and Furnishings, is given to products who meet a specific science backed standard of low emissions for products. The testing is rigorous for manufactures who have to supply samples to be tested for six day increments to ensure that there is no off gassing of red-listed chemicals, and a low-no level of other chemicals. The certification assures building owners and homeowners that the Pioneer Millworks products will not add to interior pollution immediately or over time.
Beyond the emissions data that UL GREENGUARD Gold certifies, the certified products allow design and build teams to earn credits towards LEED and other green-building challenges. The Pioneer Millworks UL GREENGUARD Gold products now earn credits toward 33 rating systems including: LEED 2009, LEED v4, LEED v4.1, NAHB Green Building Standard 2015, US EPA Indoor airPlus, WELL, and WELL v2 Pilot.
Pioneer Millworks UL GREENGUARD Gold certified products specifications and other details are available on their website. Products meeting certification are marked with the UL GREENGUARD Gold logo. The company looks forward to continuing its mission of bringing truly sustainable, socially conscious, and remarkable wood products to the design build market through other certifications in 2019/2020.
"Being one of the few reclaimed wood options in the UL GREENGUARD Gold space feels good," says Orpin. "But our true goal is to continue to push our wood products forward in other eco/socially conscious arenas as we maintain a high-bar for ourselves in quality and beautiful products."
The following is a list of the standard Pioneer Millworks UL GREENGUARD Gold engineered flooring and paneling line: American Gothic Reclaimed Ash, American Gothic Reclaimed Chestnut, American Gothic Reclaimed Elm, American Gothic Reclaimed Hickory, American Gothic Reclaimed White Oak, Reclaimed Mixed Oak Black & Tan—Tan, Reclaimed Douglas fir C-Select Vertical Grain, Reclaimed Heart Pine Premium Select Mixed Grain, Reclaimed Heart Pine Premium Select Vertical Grain, Setters' Plank Reclaimed Chestnut, Settlers' Plank Reclaimed Hardwoods, Settlers' Reclaimed Plank Oak, Modern Farmhouse Clean Ash, Modern Farmhouse Clean Hickory, Modern Farmhouse Clean Maple, Modern Farmhouse Clean Walnut, Modern Farmhouse Clean White Oak.
These Pioneer Millworks products are also UL GREENGUARD Gold certified, and available by special request: American Gothic Reclaimed Oak, American Gothic Reclaimed Premium Elm, American Gothic Reclaimed Hardwoods, and Reclaimed Douglas fir C-Select Mixed Grain.
About Pioneer Millworks: For 30 years Pioneer Millworks has been inspired by all of you to develop creative reclaimed and sustainable wood flooring, paneling, and siding. Numerous species, grades, textures, and color options for architects, designers, builders, and homeowners are available. Options that are easy for builders to install; options that have a story which homeowners and end-users can connect with; options that are good for our people and our planet.
Contact Information
Megan A
Pioneer Millworks
https://pioneermillworks.com/
5859249970
More from Test & Measurement