Pin-Paddle Mixer/Unloader aids high-calcium ash conditioning.
Press Release Summary: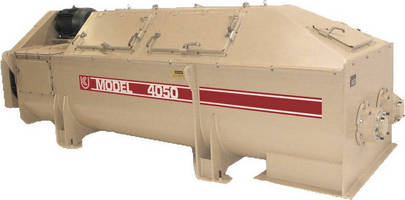 Models 4050/6050 condition ash and other abrasive material with water to suppress dust and facilitate transport to trucks and rail cars. While cleaning chains generate contact against ash material, pin-paddles reduce buildup during each cycle stop. Spray nozzles promote water penetration into bed of material for uniform conditioning and can be independently controlled for precise discharge during start up, mixing, and shut down. Shafts and pins use covers made of UHMW PE to resist buildup.
---
Original Press Release:

United Conveyor Corporation Pin-Paddle Mixer/Unloader Improves High Calcium Ash Conditioning



Waukegan, Ill. - United Conveyor Corporation (UCC) has released an innovative Pin-Paddle Mixer/Unloader designed specifically for conditioning high calcium ash, with reduced buildup, maintenance time and expense. The Mixer/Unloader conditions ash and other abrasive material with water to suppress dust and ease transport to trucks and rail cars. Paddles push and propel material forward, while fast, counter-rotating shafts ad pins lift the material and create turbulent mixing to expose the ash for optimal wetting.

"Fly ash containing high amounts of calcium compounds from Powder River Basin coal and/or emission control processes can create a number of challenges for plants using traditional methods of ash conditioning for disposal," states Dan Charhut, UCC Vice President of Technology. "Frequent wet/dry cycles (starts and stops) accelerate a cement-like build-up of material, which increases power consumption while decreasing throughput capacity. UCC incorporates new design features into its Pin-Paddle Mixer/Unloader to address these problems resulting in less clean-out maintenance."

The new design features include patent-pending cleaning chains, designed to generate contact against the ash material and pin-paddles to reduce buildup during each cycle stop. The cleaning chains can improve Mixer/Unloader throughput by up to 50 percent. They are offered as a retrofit kit or as an optional feature on new 4050 and 6050 Mixer/Unloaders.

New spray nozzle styles are utilized for improved water penetration into the bed of material for uniform conditioning and can be independently controlled to allow precise water discharge during start up, mixing and shut down. Spray nozzles are located at the highest point of the Mixer/Unloader cover, minimizing the potential for plugging. Nozzles are accessible and can be replaced from outside the mixer/unloader.

Additional features of the Pin-Paddle Mixer/Unloaders include: the shafts and pins use covers made of ultra high molecular weight polyethylene (UHMW PE) material to resist buildup. Even distribution of power between shafts minimizes shaft stress and deflection. A toothed drive belt offers smooth, low-maintenance power transmission without the need for high-maintenance timing gears and lubrication.

United Conveyor Corporation Pin-Paddle Mixer/Unloader Benefits (model no. 4050 and 6050)

Prevents high calcium material buildup

Higher throughput capacity and performance

Uniform conditioning of materials

Low maintenance design

Easy access

For more information about the UCC pin-paddle mixer/unloader, please link here.

About United Conveyor Corporation
United Conveyor Corporation (UCC) is a global leader in ash handling solutions for the power generation industry and preferred supplier for dry sorbent injection and lime handling expertise. Since 1920, UCC has been committed to the design, supply, construction, and maintenance of world class conveyor systems precisely engineered to better serve utility providers. UCC owns and operates a steel fabrication facility to maintain direct control over quality and timely delivery of manufactured components and replacement parts guaranteed to meet or exceed stringent customer performance requirements. The company offers a global network of sales and service representatives serving customers and installations spanning six continents. For more information, please contact UCC at 847-473-5900. Website: www.unitedconveyor.com

More from Machinery & Machining Tools