Pick-and-Place System supports small batch assembly.
Press Release Summary: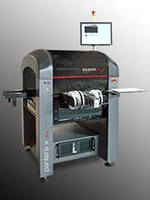 Running under Windows 8, Pantera X features enhanced X-vision system that optimizes image processing for small chip components and complements on-the-fly laser centering feature. Digital image top camera enables image recording of fiducials, optimizing detection of PCB alignment. In addition to intelligent and motorized individual feeders, configurations with FLX/CLM cartridge feeders are available which will extend number of feeders from 115 to 190 for each machine.
---
Original Press Release:

Pantera X-plus - Essemtec's Proven Pick-and-Place System for Small Batches



With more than 1500 installations worldwide, the Pantera X pick-and-place system from Essemtec offers new benefits for highly flexible small batch assembly. The field-proven machine was further developed and supplemented in order to better cover the ever-increasing demands for future component accuracy and diversity.



The enhanced X-vision system includes further improved image processing for small chip components and complements the existing on-the-fly laser centering feature. The combination of fast laser centering and high-precision image processing now allows customers to achieve the best possible placement results in this machine segment. By using a new digital image top camera, image recording of fiducials can be optimized, thereby improving the detection of the PCB alignment.



The Pantera X-plus no longer runs under Microsoft's Windows XP operating system, but under the latest Windows 8 version. This will ensure the proper support for the coming years. Small batches and prototypes continue to be programmed through a direct, universal import of CAD data or using the integrated teaching program, showing virtual component overlays. Graphical verification prior to the first production run ensures that even batch size 1 can be produced correctly. An offline software module also allows programming while the machine is running in production mode.



In addition to the intelligent and motorized individual feeders that will continue to be available, configurations with the proven FLX/CLM cartridge feeders also will be offered soon. This will increase the available number of feeders from 115 to 190 for each machine. Therefore, the machine will have more space for standard components, optimizing setup and conversion. The times for production changeover are further reduced, and small batches can be manufactured more efficiently. Individual feeders and cartridges are both connected to the integrated, intelligent feeder bus, so positions and programmed components are automatically recognized by the machine. Additionally, both feeder types can be programmed via a barcode to prevent setup errors and to ensure production quality. Upward compatibility of the feeders with larger Essemtec pick-and-place systems further secures the basic investment for the future.



The machines are available as stand-alone and optionally as compact in-line models. In addition, all models can be equipped with dispensers for solder paste or SMD glue and a variety of options for many different applications.



Visit Essemtec at booth 7.211 during SMT/HYBRID/PACKAGING 2014 to learn more about the new features of the Pantera X-plus.



About the company:

The Swiss equipment manufacturer Essemtec is the global innovation leader for flexible production systems for electronic assembly and packaging. Essemtec has been developing, manufacturing and marketing equipment for all processes in the electronics industry since 1991: such as printers, jet dispensers, pick-and-place and soldering systems. Manual, semiautomatic and fully automatic systems are available. The range of products also includes transportation and storage systems, as well as software solutions for planning, simulation optimization and documentation of manufacturing. All Essemtec systems are optimized for maximum flexibility. Users can switch from one product to another quickly, making maximum use of available production capacity.

Essemtec - Be more flexible.



Contact:

Monika Straka

Phone: +41 (0)41 919 60 60

Fax: +41 (0)41 919 60 50

Email:

[email protected]