Pick-and-Place Platform supports LED and SMT technologies.
Press Release Summary: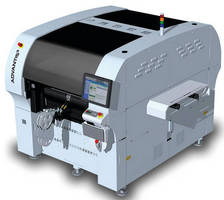 Optimizing productivity for LED and SMT applications by leveraging Lightning® placement head, Advantis® AC-60 LED consists of dual-beam platform configured with two 30-spindle Lightning placement heads that maximize throughput for 1.2 m LED lamps. Enablers for LED applications include specialized long board kits to support boards up to 1.3 m long as well as various LED nozzles that utilize soft compliant tips when contacting LED globe or pick LEDs without contacting globe.
---
Original Press Release:

Universal's Advantis AC-60 LED is Producing LED Lighting at Leading Chinese Supplier



Formal Introduction at NEPCON Shanghai

Universal Instruments will launch the premier pick-and-place solution for the growing solid-state lighting market with the introduction of the Advantis® AC-60 LED Platform at the NEPCON tradeshow in Shanghai, China, April 25-27. The Advantis AC-60 LED features focused yet flexible performance, maximizing productivity for both LED and surface mount applications by leveraging Universal's proven Lightning® placement head.

Visit Universal Instruments on Gentron's Stand 1B56 for a demonstration.

"With a global shift towards greener technologies, LED lighting is enjoying rapid growth in all regions. This growth will be supported by LED lighting prices that are projected to fall at a rate of 30% per year," notes Debbora Ahlgren, Universal's Vice President of Marketing. "These market forces combined to present Universal an ideal opportunity to leverage our flexible platform concept and introduce the fastest, most versatile LED solution available. Our Advantis Platform lineup was designed for cost-efficient performance with the flexibility to adapt to market changes, and the AC-60 LED exemplifies its ability to do exactly that. It also highlights the extreme range of capabilities of our Lightning placement head." Ahlgren continues, "While the AC-60 LED is a new product, our customers and this early adopter to the Chinese market can be confident knowing that there are already thousands of Lightning heads in production use today."

The Advantis AC-60 LED is a dual-beam platform equipped with two 30-spindle Lightning placement heads. This configuration maximizes throughput for standard 1.2 meter LED lamps, which are typically grouped in arrays of 30 or 60 placements. The AC-60 LED features specific enablers for LED applications, including specialized long board kits to support boards up to 1.3 PRESS RELEASE meters long and a portfolio of LED nozzles that utilize soft compliant tips when contacting the LED globe, or pick LEDs without contacting the globe.

The Advantis AC-60 LED also delivers exclusive investment protection with high-performance capabilities for both LED and surface mount applications without reconfiguration. The AC-60 LED boasts the largest component range of any LED placement solution, including a full array of LEDs and 01005 passives through 30mm square surface mount components. Its rotary Lightning head design utilizes the same head orientation as for standard surface mount applications, whereas alternative LED platform offerings rotate inline heads 90°. It also retains full feeder capacity to run a variety of products, versus alternatives which lose 50% of feeder capacity by removing one bank.

Universal's Vice President of Sales, Brad Bennett, comments, "Universal is committed to providing market-focused solutions and with the Advantis AC-60 LED, we've establish a distinct niche for the solid-state lighting market. Many of the logical users of the AC-60 LED operate in diverse manufacturing environments; the AC-60 LED's flexibility provides them a seamless and efficient transition to addressing a broad range of products. The AC-60 LED also provides the highest level of performance for dedicated LED lighting production and we've already begun our penetration into this fast-growing segment by partnering with a leading Chinese supplier." Bennett adds, "With our Automation and Generation 88 Through-hole portfolio complementing this new surface mount offering, we're uniquely positioned to offer our customers a single-vendor solution for a full array of LED products."

Product Information:
The Advantis portfolio includes both single- and triple-beam base models. Advantis features an affordable entry price and low maintenance costs with VRM linear motor technology that provides improved accuracy, acceleration and velocity without the downtime of lead screwdriven positioning systems. Additional class-exclusive technologies such as the 30-spindle Lightning® head - the industry's fastest - and a host of easily integrated performance options provide superior investment protection for growing requirements.

Advantis is the only truly scalable placement platform, as vision capability can be expanded or spindles added without changing heads, for a throughput of up to 34,400 cph. A class-leading component range of 01005 passives through 150mm connectors and a large overlapping range between placement heads maximize utilization. A comprehensive suite of NPI software tools assists from new product introduction throughout production to achieve 100% first-pass yields and ensure the best possible PPM.

About Universal Instruments:
Universal Instruments is a global leader in the design and manufacture of advanced automation and assembly equipment solutions for the electronics manufacturing industry. Universal provides complete assembly lines to EMS Providers, ODMs and electronics assemblers around the world, leveraging its portfolio of compatible and flexible equipment platforms that address the diverse requirements of high-speed chip and multifunction placement applications as well as component insertion. Universal Instruments is headquartered in Binghamton, with offices in Europe, Asia, and the Americas.