PHV Series, Precision High Voltage DC Power from 125V to 300,000V, 14W to 15,000W with A Broad Range of Optional Features and Control Interfaces.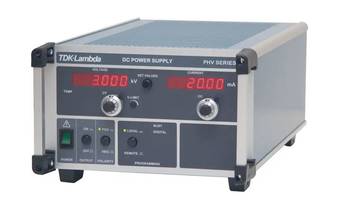 TDK Corporation announces the introduction of the PHV Series, which are Versatile Precision High Voltage Programmable AC to DC power supplies, available with a broad range of optional Analog and Digital control Interfaces.
The PHV Series covers the voltage range from 0-125 Volts to 0-300,000 Volts, at power levels from 14 Watts to 15,000 Watts, and offers High Accuracy, Low Ripple, High Stability outputs in a compact and lightweight switchmode design.
Standard models feature a fully instrumented front panel with 4½ digit DVMs for output voltage and current. The DVM functions can be simply switched between actual measured output and set point values. Output Voltage and Current can be locally set via 10-turn potentiometers with precision dials, or via standard remote Analog interface. Isolated Analog and/or Digital interfaces are optional. The front panel also features user adjustable OVP (overvoltage limit point) via a single turn screwdriver adjustable potentiometer.
The standard remote analog programming interface features ground referenced analog/digital controls and readbacks. Signals include voltage/current programming and readback, HV ON, Polarity Set, and CC/CV indicators. The remote interface is located on the rear panel via a 15-pin D-sub connector. An optional isolated analog interface is available that offers galvanic isolation of programming and readbacks up to 2kV.
Multiple optional digital interfaces are also available including LAN, IEEE488-2, USB, and RS232 (both hard wired or fiber optic). Both Analog and Digital interfaces can be incorporated into a single unit. Call the factory to discuss other interface options to meet your exact requirements.
A broad range of optional features include Interlock Terminals, additional Fine Voltage and/or Current potentiometers, ultra low output ripple of 0.001%pk-pk, Overcurrent trip, Power regulation, Polarity reversal (up to 65kV), voltage and/or current stability of ±0.001%.
All models are CE marked, EN61010-1 compliant, and meet the EMC requirements of EN61000-6 for single and three phase AC inputs.
The PHV series of Precision High Voltage products represents the most versatile, and reliable solution for the most demanding high voltage applications. Call TDK-Lambda at 732-922-5408 to discuss your exact requirements, or visit the PHV series web page.
Features
11 power ranges from 14Watts to 15,000Watts.
Output voltages from 0-125V to 0-300,000V in 16 ranges.
Local or remote operation with standard Analog and/or optional Digital control interface.
Option electronic polarity reversal up to 35kV, manual reversal to 65kV.
Comprehensive range of available digital interfaces including LAN, IEEE, USB.
Compact Air Cooled design with solid dielectric insulation.
Passive Power Factor Correction reduces RMS current draw.
Applications
Photomultipliers
Insulation Tes
Electrostatics
Ion Sources
Gas Discharge/Sputtering
Electrospinning
Mass Spectrometry
Nuclear Fusion Research
Particle Accelerators
Secondary Electron Multiplier
Electrophoresis
About TDK Corporation
TDK Corporation is a leading electronics company based in Tokyo, Japan. It was established in 1935 to commercialize ferrite, a key material in electronic and magnetic products. TDK's portfolio includes electronic components, modules and systems* marketed under the product brands TDK and EPCOS, power supplies, magnetic application products as well as energy devices, flash memory application devices, and others. TDK focuses on demanding markets in the areas of information and communication technology and consumer, automotive and industrial electronics. The company has a network of design and manufacturing locations and sales offices in Asia, Europe, and in North and South America. In fiscal 2016, TDK posted total sales of USD 10.2 billion and employed about 92,000 people worldwide.
* The product portfolio includes ceramic, aluminum electrolytic and film capacitors, ferrites, inductors, high-frequency components such as surface acoustic wave (SAW) filter products and modules, piezo and protection components, and sensors.
About TDK-Lambda Corporation
TDK-Lambda Corporation, a group company of TDK Corporation, is a leading global power supply company providing highly reliable power supplies for industrial equipment worldwide. TDK-Lambda Corporation meets the various needs of customers with our entire range of activities, from research and development through to manufacturing, sales, and service with bases in five key areas, covering Japan, Europe, America, China, and Asia.
For more details, please pay a visit to https://www.tdk-lambda.com/
Contact This Company Download Spec Sheet
More from Electrical Equipment & Systems