Photoelectric Sensors feature snap-in design.
Press Release Summary: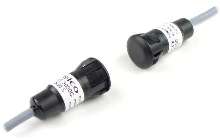 Self-contained Series SM 3000 consists of separate transmitter and receiver sensors that are used in through-beam mode. With sensing range of 6 m and light immunity of 50,000 lux, units stop doors from closing prematurely, preventing injury to pedestrians and damage to doors. Sensors are housed in cylindrical plastic enclosure with one-piece, snap-in head. Flat lens ensures flush mounting to surface, minimizing protrusion and risk of vandalism.
---
Original Press Release:
NEW Self-Contained Snap-In Sensor - SM 3000 S30

The new SM 3000 series is a technologically advanced, self-contained photoelectric sensor line that consists of separate transmitter and receiver sensor that are to be used in thru beam mode. The sensors are engineered for the automatic door industry, designed to stop doors from closing prematurely, thus preventing injury to passing pedestrians or damage to the doors themselves. The sensor system, with its sensing range of 6 m and impressive light immunity of 50,000 lux, guarantees optimal performance and reliable detection in the most demanding applications.

The sensors are housed in a X12.7 mm cylindrical plastic enclosure with a new one-piece snap-in head, which ensures easy and quick installation. Furthermore, the sensor housing is ultra slim with a length of only 30 mm, allowing installation in the narrowest of door profiles. The sensors are designed with a flat sensor lens, which ensures flush mounting to the surface, thus minimising protrusion and reducing the risk of vandalism. Additionally, the sensors are fully epoxy encapsulated ensuring an IP67 rating.

Control circuitry, electronics and optical components are all integrated into the sensor housings enabling direct connection to a door controller. The system only requires a 10-30 V dc supply voltage whilst providing a transistor output. No external amplifier or controller unit is required. The transmitter and receiver sensors are available with a 5 m cable connection. Both the transmitter and receiver sensors are protected against reverse polarity of power supplies, control input and output signals. The output of the receiver sensor is also protected against short circuit and inductive loads.

The transmitter sensor offers a control input wire, which may be used for either disabling or enabling the transmitter power temporarily for test purpose or as a gradual regulation of the transmitting power level.

The new SM 3000 S30 is designed to allow customisation to meet individual OEM requirements.

For more information please contact Telco Sensors International, info@telcosensors.com, or visit our website www.telcosensors.com. US inquiries, call 800 253 0111
More from Fluid & Gas Flow Equipment