Photodiode Arrays feature spectral range of 900-1700 nm.
Press Release Summary: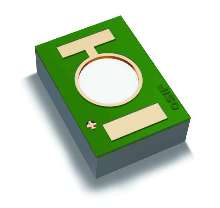 Series FCI-InGaAs-300B1XX multifunctional, backside-illuminated photodiode/arrays come standard as single element, 4-, or 8-element arrays. Sensors are designed for flip chip or traditional mounting to optical plane for front or back illumination. They are available with or without ceramic substrates and are suitable for micro-electronic applications, power monitoring, fiber optic receivers, and analog receivers.
---
Original Press Release:

OSI Fibercomm Shipping Back-Illuminated InGaAs Photodiode Arrays


Hawthorne, CA - July 16, 2003 - OSI Fibercomm, a subsidiary of OSI Systems (Nasdaq: OSIS), is now shipping multifunctional backside-illuminated photodiode/arrays, the FCI-InGaAs-300B1XX. The new sensors exhibit high responsivity when illuminated from the front or back, low noise and a spectral range of 900 nm to 1700 nm. Ideal for WDM applications, the detector arrays come standard as a single element, 4-, or 8- elements array. The active area is 300 micro m and the arrays have a pitch of 500 micro m. The back illuminated sensors are designed for flip chip or traditional mounting to an optical plane for front or back illumination. The photodiode/arrays are optimal for low-cost, high performance micro-electronic applications. These multi-functional InGaAs photodiode/arrays are available with or without ceramic substrates.

OSI Fibercomm's new FCI-InGaAs-300B1XX are also ideal for use in power monitoring, single and/or multi-mode fiber optic receivers, multichannel fiber optic receivers, fast Ethernet, SONET/SDH OC-3 / STM-1, ATM, analog receivers and other instrumentation. These new devices are ready to ship now. If your application requires different geometry, OSI Fibercomm offers quick and affordable customization.

ABOUT THE COMPANY:
OSI Fibercomm, a wholly-owned subsidiary of OSI Systems, Inc., is a premier designer and manufacturer of compound semiconductor photodetector components and subsystems essential for high-speed data and voice transmission over fiber optic networks. As a custom fiber optic component and subsystems provider, OSI Fibercomm is a next-generation designer of fiber optic solutions. Please visit osifibercomm.com for more information.

OSI Systems, Inc. is a diversified, global developer and distributor of optoelectronics for security, OEM manufacturing, medical and life sciences, and fiber optics markets. For additional information about OSI Systems, Inc. and subsidiaries, please visit: www.osi-systems.com

More from Machinery & Machining Tools