Photodetectors offer custom chip packaging.
Press Release Summary: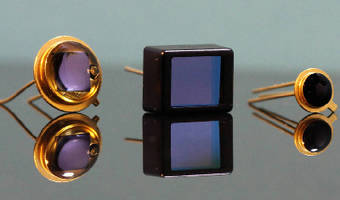 Featuring spectral sensitivity of 400–1,100 nm, Silicon Detectors are suited for applications requiring high speed, consistency, and reliability, such as optical communications, medical diagnostics, barcode readers, and missile guidance. Die can be placed in variety of packages, from metal can TO-5, TO-8, and TO-18, to surface mount COB, flex circuits, and standard 3 mm and 5 mm plastic packages. In addition, assemblies can be customized with pre-amps, optical filters, and band pass filters.
---
Original Press Release:
Marktech Optoelectronics Now Offers Custom Detector Chip Packaging
One of the only U.S. manufacturers to customize for small & medium production runs

LATHAM, NEW YORK – Marktech Optoelectronics, a leading supplier of LEDs and manufacturer of silicon (Si) and InGaAs chips and wafers, and InP epi wafers based in Latham, New York, offers a wide variety of photo detectors ranging from silicon detectors– including photodiodes, photo transistors, and Avalanche photodiodes–to Si and InGaAs PIN photodiodes. But it is Marktech's newly enhanced capability to custom package these varieties of detector chips at their Simi Valley, California facility that really sets them apart from others in the optoelectronics industry.

Marktech has recently teamed with photonics industry veteran Georgios Papadopoulos to expand Marktech's custom silicon detector design and manufacturing capabilities. Papadopoulos brings over 25 years of optoelectronics product development/design and wafer foundry process development experience.

"Our recent collaboration with Georgios is a tremendous asset to Marktech," says Barry Jones, business unit manager over Marktech's Simi Valley operations. "Georgios has extensive knowledge in the design and processing of all types of high-reliability radiation hard photo detectors. Teaming with him allows Marktech to offer a wide variety of high-quality customized photodetector products."

Silicon detectors have a spectral sensitivity range of 400nm to 1100nm for applications requiring high speed, consistency, and high reliability such as optical communications, medical diagnostics, bar code readers, missile guidance, Lidar, and more.

Marktech's detector die can be placed in a variety of packages, from metal can TO-5, TO-8, and TO-18, to surface mount COB, flex circuits, and standard 3mm and 5mm plastic packages. View Marktech's Product Selector Guide to learn more.

In addition to their newly enhanced custom chip design capabilities, Marktech also can customize Si detector assemblies to add features such as amplification circuits (pre-amps), optical filters, and band pass filters.

"All custom design projects require very stringent quality standards," notes Papadopoulos. "Most of the larger optoelectronics companies don't want to deal with the rigorous specifications of custom work, especially for small to medium-size production runs. In addition to their U.S.-based manufacturing operations, Marktech has a willingness and ability to accommodate their clients' unique needs–even for small runs–which sets them apart in this industry."

Marktech can also build custom hybrid photodetector packages that include components like operational amplifiers and feedback circuits, in addition to the chip. "Putting these components together into a custom hybrid package means less noise, smaller size, and most important, better performance," explains Jones. "And now that we have Georgios' extensive photodetector chip design and development expertise as part of our design team, our capabilities are second to none." Learn more about Marktech's custom design and test services.

About Marktech:
Marktech Optoelectronics, headquartered in Latham, New York, is a manufacturer of sensors and InP epi wafers. We also have onsite engineering and a design team that really set us apart. With over 30 years of experience in optoelectronic applications, as well as product design and improvement, we take the complexity out of choosing the right parts for the right applications in order to bring your product to market faster.

Marktech's support capabilities include onsite labs with state-of-the-art test equipment, allowing us to test and validate for all optical and electrical parameters. In addition to our sensor line, Marktech is a Cree Solutions Provider for their line of High Brightness LEDs and materials.

So tell us: What do you want to build?

Bring Marktech your idea; we can manage the entire process for you, from design to prototype, from testing to production and QA.

www.marktechopto.com
More from Machinery & Machining Tools