Phoseon Technology Exhibits LED Curing Solutions at IMI Europe-Digital Print Europe 2016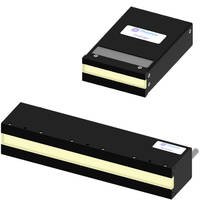 Visit the Phoseon booth to learn more about LED curing for inkjet applications
HILLSBORO, OR - November 22, 2016 - Phoseon will showcase the latest UV LED curing solutions for printing applications at the upcoming IMI Europe-Digital Print Europe 2016 event in Amsterdam, Netherlands from November 28 - December 1. Visit the Phoseon exhibit to learn how Phoseon LED technology is a perfect fit for digital inkjet printing applications due to the compact size, ease of integration, and high intensity output achieved through optimized LED thermal management. Users of Phoseon LED curing systems can process a variety of materials (including thin and heat-sensitive substrates) at maximum production speeds with low-input power.
While at the booth, learn more about Phoseon's new FireEdge™ FE400 light source for UV LED printing applications. The new small form factor air-cooled products deliver up to 8W/cm² peak irradiance and come equipped with Phoseon's patented TargetCure™ technology that delivers precise, stable and consistent curing. In addition, the inkjet-ready FE400 employs patented WhisperCool™ technology which offers a low noise solution with increased UV output.
"The FireEdge FE400 offers greater flexibility since it can be used for both full-cure and pinning applications," said Joe Becker, Product Marketing Manager of Phoseon Technology. "Customers will have the ability control intensity to a wider range of power levels, and scale to any size for easy integration."
Also highlighted for the show is the FireLine™ FL400 LED curing solution, which is Phoseon's highest power water-cooled light source with peak irradiance up to 20W/cm². The solution is scalable to support custom length options, and offers exceptional optical uniformity for consistent and reliable curing for the most demanding industrial printing applications.
During the show, Phoseon's Dirk Exner, EMEA Account Manager, will be presenting at the InkJet Academy. The Inkjet Academy covers the basic theory behind the many types of industrial inkjet technology used; Dirk will specially address UV LED curing technologies that have been developed and utilized for inkjet applications.
About Phoseon Technology In 2002, Phoseon Technology pioneered the use of LED technology for UV curing applications. As the world leader in UV LED curing, Phoseon provides patented LED technology to deliver rugged, high-performance products for application specific solutions. The Company is focused 100% on LED technology and provides worldwide sales and support capabilities.
CONTACT:
Rob Karsten
Regional Director - EMEA
Phoseon Technology
+44 (0) 1440 730353
More from Cleaning Products & Equipment