Phoenix Contact Introduces the PTFIX Distribution Blocks to Minimize Need for Tools and Accessories
Press Release Summary: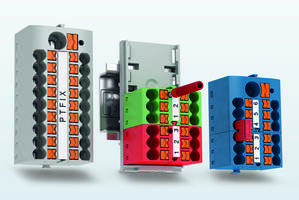 The PTFIX features a range of mounting configurations, a 2 to 18 terminal point option, and 11 color options. The mounting configurations range from horizontal to transverse positioning on a standard 35-mm DIN rail and 15-mm DIN rail. Terminal point options range between 1.5mm squared and 4 mm squared.
---
Original Press Release:
PTFIX Power Distribution Blocks Save Valuable Time with a Flexible, Modular Design
Middletown, Pa. – Phoenix Contact introduces PTFIX potential distribution blocks, a flexible, modular system that's ready to connect right out of the box. The push-in connection and modular design minimize the need for additional tools or accessories, saving valuable time and space.
PTFIX distribution blocks offer a flexible range of mounting configurations, including both horizontal and transverse positioning on standard 35-mm DIN rail and "mini" 15-mm DIN rail. The transverse position, paired with the minimal footprint, saves the user up to 50 percent more space than mounting horizontally when installed in a control cabinet. PTFIX is also available in other mounting configurations, such as direct mounting with flanges and tool-free adhesive mounting. These flexible options ensure that there is a solution for a vast array of applications. 
This product line offers 2, 6, 12, and 18 terminal-point options in 1.5 mm2, 2.5 mm2, and 4 mm2. All cross sections have the option of including a large feed-in contact. The wide variety makes it suitable for a broad range of applications. PTFIX is also available in 11 color options from the factory.
PTFIX potential distribution blocks are the newest member of Phoenix Contact's Push-in Technology family, joining the thousands of other parts featuring the quick connection. Phoenix Contact features Push-in Technology on terminal blocks, relays, power supplies, heavy-duty connectors, and many other components.
Learn more about PTFIX at www.phoenixcontact.com/ptfixblocks.
More from Machinery & Machining Tools