Phillips Precision Introduces A New Universal Spring-Load Chuck to The Arsenal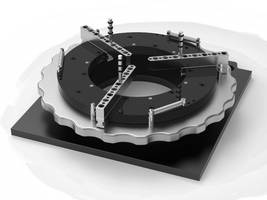 BOYLSTON, Mass. January 14th, 2021 – Filling a void in work holding options for rings and spherical part inspection, Phillips Precision introduces a new Universal Spring-Load Chuck to the arsenal.  This tool may be the solution for hard to hold parts that previously required custom setups.  Now, measure a large size range with one-handed operation (no accessary tools required).
Inspectors can easily measure rings and rounds ranging between 1/16" and 13-3/4" with this single chuck! The spring-loaded design is self-adjusting and reversible allowing parts to be held by the inside diameter or outside diameter. The three springs can be employed independently or in unison, providing clamping force options ranging approximately from 1.59 to 14.73 pounds. The center hole is designed to provide maximum back lighting for vision systems and the chuck can be operated one handed with no tools. This one-of-a-kind inspection fixture has an overall size of 12.5" across, the clamping jaws are constructed of 17-4 PH stainless steel, the base and guides are Teflon Hard Coated, while the Dynamic Wheel is clear anodized 6060t6 aluminum. Optional Loc-N-Load™ mounting plate is also available.  
https://inspectionarsenal.com/spring-load-chuck/
The Inspection Arsenal® of tools includes the Loc-N-Load™ quick-swap fixture plate system, a variety of non-marring hold downs, stand-offs, stops and rails along with a variety of unique specialty vises and clamps. Order pre-configured bundled systems or choose plates and work holding that best fit your work.
For additional information visit www.phillips-precision.com where you'll find case studies and demo videos on all products that show just how fast and easy Inspection Arsenal® is to use.
Phillips Precision, Inc. of Boylston, MA is a full-service machine shop and work holding product innovator.  Phillips designs, develops and markets work-holding products for manufacturers, in addition to providing custom fixture design services.