Philips AEDs Save Lives, Newton is Here to Help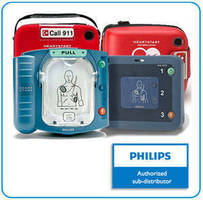 Newton Distributing Company is now an authorized sub-distributor of Philips AEDs. Automated external defibrillators (https://www.newtondistributing.com/Philips-HeartSmart-OnSite-and-FRx-AEDs-Prodlist.html) such as the OnSite unit are designed for the average person to apply to a cardiac arrest victim when it truly matters. These products from Philips are simple to operate with voice guidance to ensure that the victim has a fighting chance. Philips also offers other units such as the FRx AED (https://www.newtondistributing.com/Philips-861304-HeartStart-FRx-AED-Defibrillators-Prodview.html) which is designed for professional use compared to the OnSite.



These products are both manufactured to withstand the elements, damaging force, or other causes of destruction. With cases that are built strong, Philips AEDs will last for many years before you are in need of additional accessories or parts. Please review our Newton Distributing website to learn more about these unique products that are designed for saving lives. Make sure your location is fitted. Call 877-837-7745 today.



More from Health, Medical, & Dental Supplies and Equipment