Philadelphia Phillies Urban Youth Academy Playing Like The Pros with New Easi-Set Dugouts and Press Box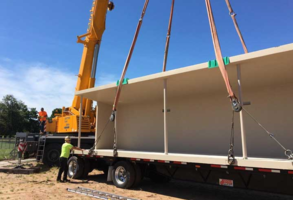 Participants of the Philadelphia Phillies Urban Youth Academy now have a feel for being a professional ball player because of renovations at the historic FDR Park. Since opening in 1914, the park has continually expanded to meet South Philadelphia residents' needs. A recent project updated two existing softball fields with a shared press box and dugouts at one field. Precast concrete Easi-Set Buildings were selected for these three structures because of their affordability, durability and aesthetics. The buildings were manufactured by Oldcastle Infrastructure Inc., an Easi-Set Buildings licensed producer in Easton, Pa.
The two dugouts are 8' x 33', and the press box is 12' x 16'. The two-story press box has interior circular stair access and sliding windows on adjacent sides for scouts to watch the two different ballfields. All the buildings have a splitface block finish and are painted with Sherwin-Williams' Cemented Deal color and a H&C Concrete stain. The structures were set on stone bases, and installation took one day for both the dugouts and an additional day to set the press box.
David Worthington, buildings manager at Oldcastle Infrastructure, says: "It was truly a pleasure to work with Phillies Charities and the construction team on this important expansion for the youth of the Philadelphia region. The training and instruction that kids receive at the Urban Youth Academy is topnotch and has led to college scholarships and professional contracts. This renovated first-class facility hopefully adds to the already quality program."
Easi-Set Buildings are manufactured in a factory by licensed producers to ensure quality-control measures and minimize the effects of weather, trades coordination and labor issues. This contributes to the cost savings of precast concrete buildings compared to built-in-place construction. Precast concrete buildings also install fast, typically taking just hours, and customization is always an option. For foul balls or wild pitches, Easi-Set Buildings provide added durability. Easi-Set Buildings are the only line of precast concrete buildings in North America that have a UL 752 Level-5 rating for standard walls.
"The dugouts make the fields look much more professional and upscale and are comfortable for the players," says Rob Holiday, director of Amateur Scouting Administration with the Philadelphia Phillies. "The press box helps give our staff shelter from the elements, and we can provide music and announce the batters during the games. The whole facility looks much better with the additions."
Visited by about 120,000 people each year, FDR Park has eight ball fields, a golf course, rugby field, tennis courts, the American Swedish Historical Museum, a skate park, fishing lakes and yoga space. It is a historic attraction for visitors and an urban oasis for residents.
​Discover more about Easi-Set Buildings and its network of licensed producers at www.EasisetBuildings.com or by calling 800-547-4045.
Easi-Set Worldwide, a wholly-owned subsidiary of Smith Midland Corporation, a public company, licenses the production and sale of Easi-Set products and provides diversification opportunities to the precast industry worldwide. Easi-Set's pre-engineered buildings are designed to provide durability, convenience and long-lasting security in a variety of applications. These maintenance-free structures are available through licensed precast concrete manufacturers across North America. Each producer manufactures Easi-Set's Buildings using a second generation post-tensioned roof and floor system to guarantee a weatherproof structure. For more information about Easi-Set Worldwide or licensing opportunities, contact Easi-Set by calling 800-547-4045 or visiting www.EasiSet.com.
Oldcastle Infrastructure Inc. has more than 80 locations nationwide with 3,000 employees. Products range from utility vaults, reinforced concrete pipe, catch basins, drainage and septic tanks to retaining walls, storm shelters, wall panels, concrete barriers and more. Employees are committed to upholding core values of reliability, quality and service in cutting edge ways. Visit https://oldcastleinfrastructure.com or call 888-965-3227.
More from Architectural & Civil Engineering Products