Phased Array Wheel Probe inspects composite materials.
Press Release Summary: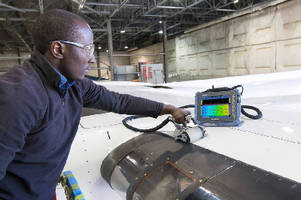 Replacing full 2-D encoding systems, RollerFORM facilitates immersion-like ultrasonic testing of composites and other smooth-surfaced materials that are used in aerospace industry. Wheel tire is made from material that closely matches acoustic impedance of water, permitting efficient transmission of energy to part without unwanted echoes, and obtaining 1 mm near-surface resolution in composites when using 5 MHz probe model. For thicker materials, 3.5 MHz model is available.
---
Original Press Release:

Olympus Introduces RollerFORM(TM), an Ultrasound Phased Array Wheel Probe Designed to Inspect Composite Materials



Waltham, MA, USA, — Olympus, a world leader in nondestructive testing technologies, is pleased to announce the introduction of the RollerFORM, a new ultrasound phased array wheel probe that has been specifically developed to facilitate high-quality, immersion-like ultrasonic testing of composites and other smooth-surfaced materials that are  commonly used in the aerospace industry. An affordable and easy-to-implement replacement for full 2-D encoding systems, the RollerFORM also offers a viable alternative to immersion techniques.



The RollerFORM's wheel tire is made from a unique material that closely matches the acoustic impedance of water. This design feature permits the efficient transmission of energy to the part without unwanted echoes, obtaining an optimum 1 mm near-surface resolution in composites when using the 5 MHz phased array probe model. The 3.5 MHz probe model is better suited for thicker and more attenuating materials. Since the tire material is transparent, the inspector can easily identify the presence of air bubbles or contaminants within the water chamber. Minimal pressure is required to achieve excellent coupling, ensuring a strong signal even in difficult scanning positions.



The RollerFORM in combination with a phased array instrument such as the OmniScan and FOCUS LT flaw detector uses zero-degree ultrasonic beams for the nondestructive testing (NDT) of parts and materials in manufacturing and maintenance environments. Common applications include delamination sizing and quantifying porosity of composite materials, as well as wall-loss monitoring in aluminum panels. With its integrated indexing button, the ergonomically designed RollerFORM enables the inspector to map the surface of a material by acquiring multiple one-line C-scans and combining them in real time into a single image. The built-in laser guide facilitates straight and precise on-line scans.



With its lightweight, compact design and durable construction, the RollerFORM wheel probe provides a valued tool in manufacturing and maintenance environments. It is ideal for scanning large areas of composite materials resulting in faster inspection times and increased productivity.



About Olympus

Olympus Corporation is an international precision technology leader operating in industrial, medical, academic and consumer markets, specializing in optics, electronics, and precision engineering. As a subsidiary of Olympus Corporation, Olympus Scientific Solutions Americas is an integral part of the global Olympus network with specific responsibility for the sales and marketing of life science and industrial instrumentation in the Americas. The company's core product line-up offers clinical, educational, and research microscopes, nondestructive testing equipment, and analytical instruments all designed with the unwavering commitment to enhancing people's lives every day and contributing to the safety, security, quality, and productivity of society.



For more information please contact:

Meindert Anderson

Corporate Director, Marketing Communications

Olympus Scientific Solutions Americas

(1) 781-419-3562

meindert.anderson@olympusndt.com

www.olympus-ims.com











More from Sensors, Monitors & Transducers