Phase and Amplitude Controller provides 6-bit attenuation.
Press Release Summary: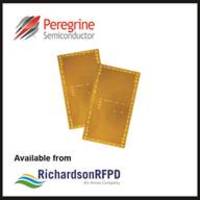 Consisting of digital step attenuator, phase shifter and RX/TX switching, PE19601 Monolithic Phase and Amplitude Controller is designed for electronically scanned array weather and military radar applications. Having +17 dBm up to 12 GHz maximum power handling capacity and covering 31.5 dB attenuation range in 0.5 dB steps, unit offers serial interface for controlling attenuation. With +40 dBm input IP3, unit operated with 50Ω impedance.
---
Original Press Release:
Richardson RFPD Introduces New 8-12 GHz Monolithic Phase & Amplitude Controller for Radar and Beamforming Networks from Peregrine
PE19601 consists of a digital step attenuator (DSA), a phase shifter and RX/TX switching
Richardson RFPD, Inc. announced today the availability and full design support capabilities for a new 8–12 GHz monolithic phase and amplitude controller (MPAC) from Peregrine Semiconductor Corporation.
The PE19601 is a HaRP™ technology-enhanced MPAC-beamforming device designed for radar and beamforming networks. It consists of a digital step attenuator (DSA), a phase shifter and RX/TX switching. This functionality is intended for the amplitude and phase control of signals to individual elements in an electronic scanning phased antenna array.
The new MPAC offers a maximum power handling of +17 dBm up to 12 GHz and covers 31.5 dB attenuation range in 0.5 dB steps. The phase shifter offers 360° of phase range with a resolution of 5.6°. The device provides a serial interface to control the attenuation, phase and RX/TX switching. It maintains high attenuation and phase accuracy over frequency and temperature and exhibits low power consumption.
The PE19601 is designed for X-band radar applications including active electronically scanned array (AESA) weather, air-traffic control and military radar.
Additional key features of the PE19601 include:
Broadband operation with 50Ω impedance
6/10-bit phase shifter
6-bit attenuation
Input IP3 of +40 dBm
Bare wirebond die
To find more information, or to purchase this product today online, please visit the PE19601 webpage. The device is also available by calling 1-800-737-6937 (within North America); or please find a local sales engineer (worldwide) at Local Sales Support http://www.richardsonrfpd.com/content/english/contactus/Pages/SalesSupport.aspx. To learn about additional products from Peregrine, please visit the Peregrine storefront webpage http://www.richardsonrfpd.com/content/english/aboutus/Pages/Suppliers-Storefront.aspx?supplierId=347.
About Richardson RFPD
Richardson RFPD, an Arrow Electronics company, is a global leader in the RF and wireless communications, power conversion and renewable energy markets. It brings relationships with many of the industry's top radio frequency and power component suppliers. Whether it's designing components or engineering complete solutions, Richardson RFPD's worldwide design centers and technical sales team provide comprehensive support for customers' go-to-market strategy, from prototype to production. More information is available online at www.richardsonrfpd.com.
Contact:
Elizabeth Whelan
Marketing Specialist
Richardson RFPD
1950 S. Batavia Ave Suite 100
Geneva, IL 60134
P 630.262.6867
M 630.488.6184
More from Materials