Pharma Vial Trays, a Solid Choice for Pharmaceutical Processing!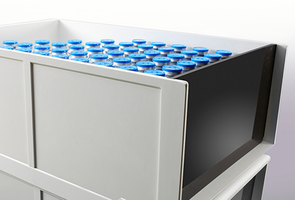 Pharmaceutical Vial Trays
With standard sizes of 2.25″, 2.5″, 3.5″ 4.25″ and 8″, MFG Tray pharmaceutical vial trays serve an array of handling and storage needs in pharmaceutical processing. They are an economical alternative to metal trays and containers, and will not corrode, dent or bend. Unlike disposable trays, their strength and durability ensure years of value-added service. MFG vial trays feature a smooth surface and tapered front lip for easier loading and unloading. Inherent strength resulting from composite construction ensures solid stacking without bending or warping. The smooth, non-porous surface is easy to clean in standard washers.
MFG vial trays may be continuously used in temperatures from -60° to 250° F (-51° to 121° C), and special formulations are available for temperatures between 300° and 400° F. Tray gates are available in polypropylene for normal use in temperatures less than 180° F, and poly-carbonate or stainless gates are recommended for temperatures exceeding 180° F.
Composite trays and containers are safe for pharmaceutical processing. All materials used in the construction of MFG Tray products are listed in the NSF Standard No. 2 and in USFDA Code of Federal Regulations, Title 21, of the Federal Register, Section 177.2420. MFG Tray Company strongly believes in helping you find solutions. When you need that special solution, whether it is a tray, a container, or a custom part, please contact us at info@mfgtray.com or 1-800-458-6050.
Molded Fiber Glass Tray Co., A Div. of Molded Fiber Glass Companies
6175 US Hwy. 6
Linesville, PA 16424
Phone: 814-683-4500
Contact:
Celena Davis
MFG Tray Company
Marketing Manager
email: cdavis@mfgtray.com
More from Health, Medical, & Dental Supplies and Equipment