Phantom®L6 ROV comes with six Tecnadyne® thrusters.
Press Release Summary: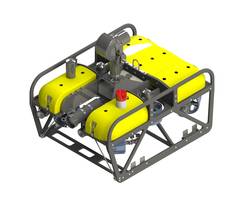 Suitable for infrastructure inspections, hydroelectric monitoring and exploration applications, Phantom®L6 ROV is equipped with active roll and heading gyro stabilization. Delivering 18,000 lumens output illumination and 110 lb vertical lifting force, unit features open-frame architecture and expansion bulkhead connectors. Offering diverse sonar integration options and five degrees of freedom maneuverability, product comes with dynamic rolling maneuvers.
---
Original Press Release:
Deep Ocean Engineering Introduces the Phantom® L6
Deep Ocean Engineering, Inc. proudly introduces the Phantom® L6, its newest addition to the Phantom series of inspection-class ROVs.
The applications for use of the Phantom®L6 span a broad spectrum of industries, including;
Infrastructure Inspections - Bridges, Tunnels, Pipelines, Ships
Hydroelectric System Monitoring - Power Plants, Dams, Reservoirs
Homeland Security – Law Enforcement, Military
Exploration - Oil and Gas, Salvage, Search and Recovery
Per John Bergman, Deep Ocean Engineering, Vice President of Engineering, "The Phantom®L6 is our latest entry into the 500m inspection class ROV arena. It comes equipped with active roll stabilization and heading gyro stabilization, allowing the pilot to control with precision, while minimizing exhausting, repetitive movement. As with other Phantom® series ROVs, we offer an open-frame architecture for easier mechanical integration, and dedicated expansion bulkhead connectors are provided as standard. Its six enhanced Tecnadyne® thrusters provide sufficient power to raise the ROV out of areas that could otherwise trap a smaller ROV".
The standard Phantom L6 platform features include:
Active roll stabilization.
Advanced dynamic rolling maneuvers.
110 pounds vertical lifting force.
Motion eliminating cleats available.
Extreme payload capacity.
Diverse sonar integration options.
Five Degrees of Freedom maneuverability.
Easily reconfigurable and customizable.
18,000 lumens high output illumination.
Based in San Jose, California, Deep Ocean Engineering, Inc. is an American company, established as a world leader in the design, manufacture, service and support of high performance, rugged, and reliable underwater ROV and USV systems.
Please Contact
Raul Enrique Pena,
VP of Sales and Marketing
Deep Ocean Engineering, Inc.
408-921-9522
2403 Qume Drive
San Jose, CA 95131
+1.408.436.1102
Email at raulpena@deepocean.com.