PFERD to Introduce Range of New Metalworking Solutions at FABTECH 2018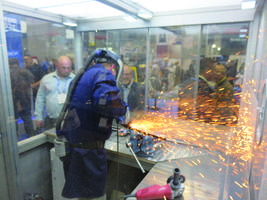 Milwaukee, WI—PFERD INC., a global manufacturer of abrasives, brushes and power tools, will introduce a significant number of new products for grinding, milling and surface conditioning applications in booth C11442 at FABTECH 2018, November 6-8, 2018 in Atlanta.
The company will present new featured products from its comprehensive line of metal cutting and finishing products such as files, burs, brushes, grinding and cutting wheels, and power tools. Various product displays and live demonstrations will emphasize time savings as a key component of profitability for any applications solution, and part of PFERDVALUE®, an initiative focusing on products designed to increase labor efficiency, operator health and safety, and overall process optimization.
Featured amongst the new products will be; a new adjustable holder for car body files; the Ceramic SGP STEELOX, an 1/8 in. thickness grinding wheel in 4.5, 5, 6, and 7 in. diameters, primarily for cutting and light grinding in the pipeline industry; CC-GRIND®-STRONG grinding wheel a combination of stacked coated discs with a bonded abrasive support; and the new OMNI cut carbide burs for aggressive removal on steel, stainless steel, non-ferrous metal and cast iron.
PFERD will also feature the new ceramic SG COMFORT in 4.5 and 5 in. diameters, a hybrid grinding wheel for steel that combines a top layer of coated abrasives and a rough grinding wheel for high stock removal and maximum economic efficiency.
PFERD INC. is the U.S. subsidiary of August Rüggeberg GmbH & Co. of Marienheide, Germany. As a global manufacturer of abrasives, brushes and power tools, PFERD offers a comprehensive line of products and services for metal cutting and surface conditioning. With over 200 years of experience in developing innovative products that optimize productivity, achieve economic efficiencies and improve operator health and safety –customers around the world TRUST BLUE.
PFERD INC
9201 W. Heather Ave
Milwaukee, WI 53224
www.pferdusa.com
For further editorial information contact:
Maria Cartier, Marketing Manager
maria.cartier@pferdusa.com
More from Architectural & Civil Engineering Products