PET Crystallizing System provides automated operation.
Press Release Summary: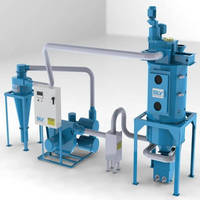 Super Duty PET crystallizing system consists of agitated crystallizing hopper, electric or gas air heater configured to deliver required heating BTU, and optional cyclone dust collector. System monitors level and temperature of resin in top of hopper and automatically regulates speed at which material moves through hopper to ensure every pellet or flake is crystallized before discharge. Generally, system will automatically compensate for variations in process without operator intervention.
---
Original Press Release:

Sly Process Systems' Announces Their New "Super Duty" PET Crystallizing Systems



Sly Process Systems' "Super Duty" PET crystallizing systems are the result of almost 20 years experience in the design, application, and manufacture of high performance crystallizing systems.

Amorphous PET resin, regrind, and post consumer bottle flake must first be surface crystallized before drying in order to avoid agglomeration and plugging issues within the drying vessel. The crystallizing process involves heating the amorphous resin to a temperature above the glass transition (Tg)temperature (normally 158-176°F or 70-80°C). Rapid crystallization occurs between 194°F and 212°F (90-100°C), and the process is complete by the time the temperature reaches 275°F (135°C).The typical Sly Process Systems crystallizing system consists of a properly sized agitated crystallizing hopper, electric or gas air heater configured to deliver the required heating Btu, and anoptional cyclone dust collector if the material is particularly dusty.

While not a complex process, without proper controls and safeguards in place to prevent amorphousresin from reaching the lower regions of the crystallizing vessel, serious operational issues, and evendamage to the typical crystallizing hopper can result.

The Sly Process Systems crystallizing system monitors both the level and the temperature of the resin in the top of the hopper and automatically regulates the speed at which material moves through the hopper in order to assure that every pellet or flake is crystallized before discharge. Crystallization takes place in the upper 1/3 of the crystallizing hopper, and the passage through the remainder of the hopper serves to break up any agglomerates before being discharged fromthe hopper. "Lump breakers" or screeners to post condition the material are not required with the Sly Process Systems system.

The agitated crystallizing hopper is extremely robust and is designed to handle the occasional upset condition caused by an inexperienced operator, or upstream or downstream flow stoppages. Generally the system will automatically compensate for variations in the process without requiring operatorintervention.

Sly Process Systems provides a full line of bulk material handling equipment and processing systems for your plant. Some examples of our products include Storage Silos, Pneumatic Conveying Systems, Gravimetric & Volumetric Blending and Metering EQ, Bag / Box / Drum Unloading and Filling Systems,Machine Loaders, Complete Turnkey Systems, and Aftermarket Parts.

Inquiries should be sent to:

Sly Process Systems LLC
8300 Dow Circle
Suite 600
Strongsville, OH 44136
Telephone: (888) 507-4133
Fax: (440) 891-3210

slyprocesssystems.com
sales@slyprocesssystems.com

More from Controls & Controllers