PESA Prepares Customers for 4K, Improves Streaming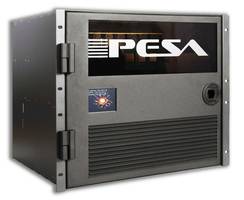 Huntsville, Alabama – April 24, 2017 – PESA, a leading designer and manufacturer of professional AV distribution products and multi-channel streaming appliances, will showcase new products and demonstrate its established workflows at the 2017 NAB Show (Booth SL4224), which runs April 24-27 in Las Vegas, Nev. Booth highlights include the new Fusion™ 25G Advanced Connectivity Platform (ACP), SmartView™ wireless control of PESA routers, and Reflex internet transmission technology for the PESA XSTREAM C22 dual channel H.264 encoder/decoder.
Available in 288x288 and 576x576 configurations, the Fusion ACP hybrid SDI/IP platform supports SMPTE 2022-6, NMI, and SMPTE 2110 (pending), plus single port, uncompressed 4K60 SDI and IP signals. Designed to be redundant and easily upgraded, Fusion's I/O cards and power supplies are both front loaded and hot-swappable. Each I/O card has a companion I/O blade on the back of the chassis that supports both copper and fiber connections. Additionally, Fusion offers integrated storage for local content management, which enables easy connections to servers in the cloud for reductions in both hardware and management costs.
"The big news at NAB is our Fusion Advanced Connectivity Platform. It's a major step forward in routing because it delivers uncompressed 4K60 video through a single cable. It also supports IP sources, for hybrid environments, and provides backward compatibility," explained Leslie Barnes, director, marketing. "With Fusion, not only can you handily manage your present routing needs, but with an easy upgrade path you are prepared for the future."
Another new product is SmartView, a tablet-based interface for controlling and monitoring PESA's enterprise-class routing systems. Ideal for managing multiple monitor walls and multi-viewers throughout a facility, SmartView's customizable workspace makes it easy to replicate a workspace's exact monitor array, and change inputs and monitor signals in real time. SmartView's preview pane also allows real-time monitoring of any video source. NAB attendees will have the opportunity to win a free SmartView license when they visit the PESA booth.
The internet is usually considered an unreliable transmission channel because it creates a relatively large number of errors. For the first time at NAB, PESA will demonstrate the C22's new Reflex encoder, which uses an advanced packet analytic algorithm to allow the receiving device to identify and correct errors between the encoder and decoder without unnecessary retransmission. The C22 can use the internet as a reliable and cost effective method for transmitting video.
PESA will also offer a demo of its PESA Live Services, the browser-based version of its multi-camera immersive experience for laptops and desktops. Like the app for iOS and Android portable devices, PESA Live Services features a quad screen display that allows each viewer to choose from several video sources without missing the action or losing synchronized audio. Anchored by the PESA XSTREAM C58 multi-channel encoder/decoder at the venue, PESA Live Services allows content creators to include content branding, advertising, and other information for viewers.
Also on display at NAB, PESA ACES is an affordable, secure multi-channel video and audio digital content capture and playback system. It works as a live event recording system for media outlets, but its browser-based access, advanced search functionality, powerful audit and analytics, and indexed multimedia annotations are effective collaborative tools for law enforcement, research and development, and more. Built around the PESA XSTREAM and VIQ Satellite software for sophisticated file capture and management, PESA ACES offers real-time synchronization of audio and video elements and multi-tiered file synchronization to redundant storage servers.
PESA has also added PESA SecureSDI™ to its Vidblox HTR module for routing and distributing protected material through standard SMPTE infrastructures (fiber or coax cable). The Vidblox HTR transmitter creates an HDCP secured link with HDMI sources, then encrypts the video for transport over a standard SDI interface. When using PESA SecureSDI, the video cannot be recovered or displayed by standard SDI products, but it can still be routed like traditional SDI video. A Vidblox HTR receiver verifies the HDMI output is properly secured through HDCP, then decrypts the video for display.
About PESA
As a leading provider of audio/video (A/V) Baseband and IP connectivity products, PESA offers a wide selection of multi-path streaming products, routing switchers, matrix switchers, extenders, converters, media extenders, and signal processing gear to support government, military, industrial, commercial, medical, broadcast, and mobile truck applications. From large to small-scale A/V routing and extender products to multiple IP streaming appliances, PESA offers a diverse suite of AV products, all of which are supported by 24/7 technical support. PESA is located in Huntsville, Ala., with regional sales offices throughout North America and China. Our cost effective solutions are available around the world through our industry leading team of Channel Partners offering local support and installation. All products mentioned herein are trademarked property. Learn more about us at www.pesa.com.
Press Contact
Company Contact
Leslie I. Barnes
PESA
905-752-3700
More from Mechanical Power Transmission