Personal Multi-Gas Monitor helps keep workers safe.
Press Release Summary: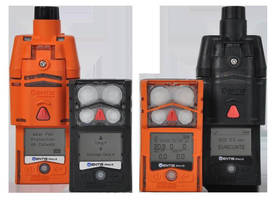 Rated to IP68, configurable Ventis™ Pro Series includes such safety features as iAssign™ Technology, which tracks users and sites in real-time using NFC; dedicated panic button and man-down alarm; acknowledgeable gas alerts; and alarm action messages. Ventis™ Pro4 supports up to 4 sensors (LEL/CH4, O2, CO, CO/H2 Low, H2S, SO2, NO2, or HCN), while Ventis Pro5 detects up to 5 and expands support to NH3, CO2/hydrocarbon IR, CO2/CH4 IR, and CO/H2S.
---
Original Press Release:
Industrial Scientific Introduces the Ventis(TM) Pro Series Multi-Gas Monitor
The Ventis™ Pro4 and Pro5 personal gas monitors set a new standard for size and ease of use.

PITTSBURGH, PA – Industrial Scientific, the global leader in gas detection, today introduced the Ventis™ Pro Series Multi-Gas Monitors. Small, rugged, and highly configurable, the Ventis Pro Series is backed by the industry's only Guaranteed for Life™ warranty and offers a wide range of sensor options to detect up to five gases.

The Ventis™ Pro4 is compatible with four of the following sensors: LEL/CH4, O2, CO, CO/H2 Low, H2S, SO2, NO2, or HCN making it ideal for industries such as fire service, steel, and construction. The Ventis™ Pro5 detects up to five gases including any covered by the Pro4 in addition to NH3, CO2/hydrocarbon IR, CO2/CH4 IR, and CO/H2S.

Industries such as oil and gas, petrochemical, power generation, metal and coal mining, gas utilities, and refrigeration, which typically need a larger five-gas instrument, can easily transition to the smaller, lighter Ventis Pro5. Both the Ventis Pro4 and Pro5 are equipped with a variety of new safety features that raise the bar on worker safety.

• iAssign™ Technology tracks users and sites in real-time using Near Field Communication (NFC) to help safety managers identify and address jobsite gas hazards and improve asset management.
• A dedicated panic button and man-down alarm help to alert nearby workers when someone is in distress or has lost consciousness.
• Acknowledgeable gas alerts let users know when they are in the presence of gas below the low alarm level enabling them to take safety precautions while continuing to work.
• Alarm action messages provide written instructions during low and high alarm events, helping workers to react appropriately.

In addition to being the most advanced multi-gas monitors on the market, the Ventis Pro Series is extremely rugged. It comes with a Guaranteed for Life warranty and is IP68 rated, meaning the instruments have the highest level of protection against dust ingress and can withstand being submerged in water at a depth of 1.5 meters for one hour.

"The Ventis Pro Series sets a new standard for safety, usability, and utility in a wearable instrument," said Justin McElhattan, President and CEO. "It is the ideal monitor to have by your side when you want it least and when you need it most."

For more information on the Ventis Pro Series, visit www.indsci.com/ventispro.

About Industrial Scientific Corporation
As the global leader in gas detection, Industrial Scientific provides gas detection products and services that keep workers safe in hazardous environments. The company's more than 700 employees in 25 countries are committed to preserving human life, and have dedicated their careers to ending death on the job in this century. Established in 1985 and headquartered in Pittsburgh (USA), Industrial Scientific also has operations based in Arras (France), Dortmund (Germany), and Shanghai (China), and provides technical services to customers from local service centers around the world. Industrial Scientific is the parent company to Predictive Solutions Corporation (www.predictivesolutions.com). For more information, visit www.indsci.com.

NEWS RELEASE
Industrial Scientific Corporation
1 Life Way
Pittsburgh, PA 15205-7500, USA
Phone: (412) 788-4353
1-800-DETECTS (338-3287)
www.indsci.com

O U R M I S S I O N
Preserving human life on, above and below the earth.
Delivering highest quality, best customer service … every transaction, every time.

Media Contacts:
Chris Lange
Director of Marketing, Americas & EMEA
1-800-DETECTS or (412) 788-4353
[email protected]

Liz Keblusek
Corporate Communications Specialist
1-800-DETECTS or (412) 788-4353
[email protected]