Permeable, Fee-Cutting Grinding Wheel offers extended life.
Press Release Summary: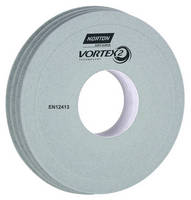 Maximizing coolant diffusion in grinding zone, VORTEX(TM) 2 Technology produces naturally occurring porosity and are approved by oSa. Formula for bonding fused alumina grain at optimal spacing in matrix improves chip clearance and reduces friction. Product optimizes productivity and wheel life while minimizing risk of unwanted metallurgical changes and residual stresses in workpiece. Green-colored wheels come in 5 grit sizes from 46-120, 4 hardness grades, and 4 structures.
---
Original Press Release:

Norton's New VORTEX(TM) 2 Creep-Feed Technology Delivers Better Edge Profile Retention and Longer Life



A decade ago, there was a quantum step forward in the production of industrial gas turbine blades and vanes, as well as other parts made from nickel alloys and other sticky and difficult-to-machine metals, following the development of new creep-feed grinding techniques. The process enables very high metal removal rates, without burning the components being machined, using aluminium oxide wheels and copious quantities of coolant.

Saint-Gobain Abrasives, under its marketing leading brand, NORTON, developed the most advanced product at the time, called VORTEX(TM). The structure of the wheel was engineered to increase porosity and permeability whilst maintaining grinding wheel strength.

Saint-Gobain Abrasives has moved ahead again with the introduction of VORTEX(TM) 2 Technology. It is a top quality, highly permeable, free-cutting grinding wheel that maximises coolant diffusion in the grinding zone. An innovative formula for bonding the fused alumina grain at optimal spacing in the matrix leads to improved chip clearance and reduced friction. High productivity is thus combined with prolonged wheel life and minimal risk of unwanted metallurgical changes and residual stresses in the workpiece.

The green-coloured wheels come in five grit sizes from 46 to 120, four hardness grades and four structures ranging from a less open matrix for improved form-holding and lower wheel wear to a more open structure for higher metal removal rates (MRR) and use on heat-sensitive parts.

VORTEX(TM) 2 Technology is environmentally friendly as it produces naturally occurring porosity, so it is not necessary to use other types of organic porosity inducers.

Saint-Gobain Abrasives' R&D department has released experimental data on metal removal using VORTEX(TM) 2. The wheels show a massive 40 per cent increase in longevity, cycle time reductions of up to 60 per cent due to increased depths of cut, and much better holding of the dressed form across the width of the wheels. This allows 37.5 per cent higher MMR than the previous generation of wheels. Additionally, the dressed profile lasts longer in VORTEX(TM) 2, so frequency of wheel dressing is reduced and there is less wear on the dresser, prolonging the life of both.

As with the original VORTEX(TM) wheels, an additional cost saving derives from the fact that 20 per cent less power is needed to drive the wheel for a given metal removal rate, saving power and reducing the amount of heat energy transmitted through the workpiece. It also reduces the mechanical forces on the component during machining, minimising its tendency to move within the fixture and leading to higher accuracy. For the same reason, a less rigid machine tool can produce better results with VORTEX(TM) 2.

All Saint-Gobain Abrasives products are approved by oSa, the international organisation for the safety of abrasives, so there is no risk of wheels breaking down at these elevated speeds and feeds.

Field trials conducted on Makino horizontal machining centres, grinding Inconel, show wheel life increases of about one-third and cycle times down by between 11 and 24 percent respectively, translating into a 20 per cent saving in manufacturing cost per part.

In another test on a Blohm Profimat grinding Inconel turbine blades, wheel life was increased by 50 per cent and cycle time was improved by 16 per cent. Similar manufacturing cost savings were achieved.

In a different industry, on a Gleason-Pfauter machine profile grinding a module 12 gear of M6 steel hardened to 62 HRc, cycle time was reduced by 50 per cent and wheel life was extended by 25 per cent, knocking 30 per cent off the cost per part.

To help manufacturers maintain competitive advantage, Saint-Gobain Abrasives offers a free Process Solutions Program (PSP). Dedicated engineers visit to analyse users' grinding operations in their entirety with a view to increasing productivity, improving quality, reducing costs and maintaining / improving safety standards.

The point Saint-Gobain Abrasives makes is that abrasives account for only three per cent of manufacturing costs, so the impact that consumable prices have on the total is small.

However, cutting 20 per cent off cycle times will reduce cost per part by more than 15 per cent, while fewer wheel changes also significantly raises productivity and machine utilisation. It is on these areas that Saint-Gobain Abrasives focuses attention during the PSP analysis. Quality enhancement and scrap reduction impact heavily on the bottom line and are similarly targeted, while a safety audit also forms part of the overall assessment at a customer's site.

Further information on PSP audits and VORTEX(TM) 2 is available from Dave Balshaw, Saint-Gobain Abrasives, tel: 01785 279553 or email david.balshaw@saint-gobain.com

Saint-Gobain, the world leader in the habitat and construction markets, designs, manufactures and distributes building materials, providing innovative solutions to the challenges of growth, energy efficiency and environmental protection. With 2011 sales of Euros42.1 billion, Saint-Gobain operates in 64 countries and has around 195,000 employees.

In the UK and Ireland, some of the best known and respected companies in the construction industry are part of Saint-Gobain. Alongside Saint-Gobain Abrasives, these include British Gypsum, Isover, Solaglas, Weber, Saint-Gobain Glass, Saint-Gobain PAM, Pasquill, Ecophon and Saint-Gobain Solar. Together they offer a range of high performance energy-saving products and solutions to help create a more sustainable built environment.

For more information on Saint-Gobain, visit www.saint-gobain-abrasives.com.

More from Machinery & Machining Tools