Permeable Drain Insert aids in compliance of 40 CFR 122.26.
Press Release Summary: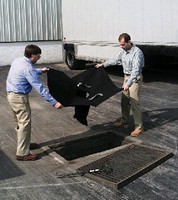 Designed to fit rectangular storm drains up to 30 x 40 in. and round drains up to 30 in. diameter, hydrophilic PIG® Drain Insert Plus helps keep hydrocarbons and sediment from entering drains and water system. Filter strips remove floating oil and other hydrocarbons, while 18 in. deep accumulation pocket collects oil, sediment, and other contaminants. Excess flow port avoids blockage during periods of high water flow.
---
Original Press Release:

New Pig Introduces Pig® Drain Insert Plus



Tipton, PA September 27, 2006 --New Pig Corporation has introduced the PIG® Drain Insert Plus to help keep hydrocarbons and sediment from entering drains and the water system.

The permeable, hydrophilic PIG® Drain Insert Plus fits rectangular storm drains up to 30" x 40" in size and round drains up to 30" in diameter. Filter strips remove floating oil and other hydrocarbons while the 18" deep accumulation pocket collects oil, sediment and other contaminants. In addition, the Drain Insert features an excess flow port to avoid blockage during periods of high water flow.

The PIG® Drain Insert Plus aids in compliance of 40 CFR 122.26, can be used as a Best Management Practice and as part of a Stormwater Pollution Prevention plan to help keep hydrocarbons and sediment from entering the water system.

In 1985, New Pig invented the first contained absorbent, the Original PIG® Absorbent Sock, changing leak and spill management forever. Built around its award-winning Pigalog® catalog, innovative product line, and legendary service, the company has thrived. Now a multi-channel, multi-brand supplier of innovative liquid management solutions and industrial maintenance products to industrial, institutional, and government facilities in over 40 countries, PIG® products, services, and technical expertise help workplaces get clean, stay clean, and save time and money.

The company's 400 + page Pigalog® catalog features a wide variety of exclusive and innovative PIG® Brand products, including the largest selection of absorbent socks, mats, pillows, pans, and booms in the world. In addition, the expanding product line includes material handling equipment, personal protection apparel, spill response supplies, disposable and pre-moistened wipers, and other workplace maintenance and safety products.

PIG® products and other quality brands are also available through its web site at www.newpig.com. Other channels offering PIG® products include all Safety-Kleen branches, select Integrated Suppliers, and B-to-B E-Commerce exchanges.

FOR MORE INFORMATION OR A FREE PIGALOG® CATALOG, CONTACT NEW PIG AT ONE PORK AVENUE, TIPTON, PA 16684 OR CALL 1-800-HOT HOGS® (468-4647). THE COMPANY'S E-MAIL ADDRESS IS HOTHOGS@NEWPIG.COM AND WEBSITE IS HTTP://WWW.NEWPIG.COM.

CONTACT:
Kristie Carruthers
(814) 684-0101
kristiem@newpig.com

More from Cleaning Products & Equipment