Perma-Liner Showcased in Lifetime Networks' Designing Spaces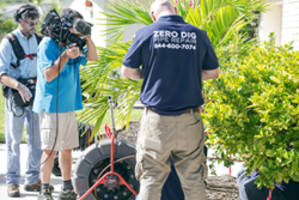 Award-winning home improvement show features Perma-Liner segment on CIPP rehabilitation.
Clearwater, FLA. (PRWeb) January 31, 2019 -- Perma-Liner™ Industries, LLC. ("Perma-Liner") recently appeared in Lifetime Networks' Designing Spaces® program, which is the network's award-winning home improvement show. The segment will air an encore presentation this Friday, February 1, 2019, at 7:30 a.m. (ET/PT) on Lifetime®.
Designing Spaces travels the country to remodel, redecorate and redesign the spaces we call home, including rehabilitating aging sewer systems for homeowners. While their mission is to educate, empower and to entertain their audience with informative solutions to fit their lifestyle, the show also inspires viewers with the latest and greatest in home improvement to help them make the most of their living environments.
"We're very excited about this opportunity to work with Lifetime Networks and the Designing Spaces crew to showcase the innovative technology Perma-Liner offers homeowners," said Morgan Dietsch, Marketing Director at Perma-Liner. "We pride ourselves on providing the knowledge and expertise to homeowners to equip them with the best possible solutions to fixing their clogged or broken sewer pipe."
In addition to its encore presentation, the feature will also be available in syndication where the segment will air throughout 182 stations nationwide and in more than 550,000 hotel rooms.
Perma-Liner is currently celebrating 20 years of excellence in the trenchless pipeline rehabilitation industry. The company has continued to be the nationwide leader in trenchless pipeline rehabilitation due to its advanced technology and products. From its Perma-Main™ Top Gun™ and Perma-Lateral™ Lining System to its InnerSeal™ and heat assist equipment, Perma-Liner's experience in designing, patenting and manufacturing CIPP equipment and materials continues to rise above the competition and produce products that are cost-effective solutions to repairing, without excavation, existing sewer systems.
With 20 years of experience under Perma-Liner's belt as a manufacturer, the business is looking to make the next 20 years even greater by continuing to innovate and providing valued solutions.
About Perma-Liner
Perma-Liner is the leading manufacturer and supplier of trenchless pipeline rehabilitation equipment and materials in North America. Since 1999, Perma-Liner has developed systems to rehabilitate existing sewer systems without excavation.
Contact Information
Ashley Mattox
Perma-Liner Industries, LLC.
http://https://perma-liner.com/
+1 317-847-7424