perma® & The Lubrication Reliability Source Capture the Synergy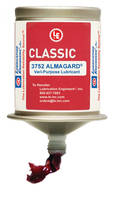 FORT WORTH, Texas, USA (1 July 2009) - Lubrication Engineers, Inc. (L.E.), 'The Lubrication Reliability Source(TM)' for global industry is pleased to announce that perma®, the leading automatic lubricator manufacturer, is the latest addition to their stable of reliability products. L.E.'s lubrication consultants worldwide are able to offer their industrial customers perma automatic lubricators filled with high performance L.E. greases. The powerful synergy of these proven lubricants along with perma's continuous & precise lubricators provides companies with simple yet highly effective lubrication reliability for their industrial plants.

The reliability of expensive equipment depends upon lubricant being delivered at the right time, in the right place & in the right amount. L.E. customers will continue to enjoy the benefits of having their important applications protected by L.E. greases but without the expense & need for routine manual lubrication maintenance costs. The use of the L.E. / perma combination will result in precise, quality lubrication being delivered 24 hours a day and will therefore mean minimal production downtime due to lack of lubrication. Health & safety is also improved by the use of perma lubricators in locations with difficult & dangerous accessibility issues.

L.E. is pleased to be able to offer perma automatic lubricators pre-filled with an extensive range of L.E. industry proven greases:

MONOLEC® - 4622 MONOLEC Multiplex, 4701 MONOLEC Industrial Lubricant

ALMASOL® - 1251 ALMASOL High Temperature Lubricant, 9901 ALMASOL Syntemp

ALMAPLEX® - 1275 ALMAPLEX Industrial Lubricant, 1299 ALMAPLEX Ultra-Syn

ALMAGARD® - 3751 & 3752 ALMAGARD Vari-Purpose Lubricants

QUINPLEX® - 4024 QUINPLEX H1 Food Machinery Lubricant

perma®

The name perma stands for innovative and creative solutions in lubrication technology. With more than 40 years of experience, single and multi-point lubrication systems from perma-tec can be found in all types of industries and applications. perma-tec is the innovative leader of single-point lubrication systems and supplies more single-point lubrication systems than any other manufacturer worldwide. perma USA is a wholly owned subsidiary of perma-tec GmbH u. Co. KG, the manufacturer and global distributor of the perma product line. perma was launched to the market in 1964 in Germany. Distribution of the product expanded throughout the European market for the next 15 years before being introduced to the North American market in the late 1970's with the perma CLASSIC lubricator.

"The synergy between the perma & L.E. brands offers our customers a new powerful reliability tool - the very best lubricators on the market filled with the highest performing greases available. Both companies pride themselves on their market leading lubricant technology, innovation & outstanding customer service - it is a natural fit and one that we are looking forward to developing worldwide," said Scott Schwindaman, President, Lubrication Engineers Inc.

Lubrication Engineers Inc, USA has been a leader in lubricants since 1951. L.E. manufactures and markets a comprehensive line of heavy-duty, premium quality lubricants formulated from the highest quality select base stocks. These lubricants are manufactured under an ISO9001 certified quality system at a state of the art plant in Wichita, Kansas, USA. L.E.'s objective: increase your profitability. L.E. products are designed to increase profitability through: longer equipment life, extended service intervals (reduced lubricant consumption), energy reductions, reliability (less downtime), fewer repairs (fewer parts & less labour) as well as less inventory (multi-purpose products) L.E. lubricants & reliability products are available worldwide (outside USA, Canada & Mexico) through L.E. International AG's global network of over 60 distributors.

For further information on your nearest local L.E. International AG distributor please contact L.E. Inc:
Telephone: +1 817 834 6321 Email: p.grimes@le-inc.com angus@le-international.com
www.le-inc.com or www.le-international.com or www.permausa.com

L.E. Products

Versatile lubricants with unequalled performance - L.E. products are designed to give unmatched performance in virtually any application operating under conditions that vary from normal to severe.

R&D continually investigates advanced technology to develop tomorrow's lubricants. L.E.'s own additive company, The Almasol Corporation, perfected wear-reducing additives which have been used on every US manned space mission. Customers benefit from L.E.'s exclusive and proprietary additives:

DUOLEC(TM) - Provides a 'dual' level of anti-wear & EP protection that forms a solid-like protective layer on metal surfaces

ALMASOL® - Greatly reduces friction, heat & wear while withstanding very high loads and temperatures up to 1900°F (1038°C)

MONOLEC® - Vastly increases oil film strength while reducing friction, heat and wear.

QUINPLEX® - Provides water and moisture resistance.

PYROSHIELD® - For use in extreme heavy duty and shock loading

Superior base oils - L.E.'s petroleum lubricants contain 100% Mid-Continent paraffinic base oils. Using special refining techniques, these base oils have a saturated molecular structure similar to the synthetic PAO's. Thus, they offer excellent oxidation resistance, superior lubricity, long life and few deposits / sludge.

Uninterrupted Supply - is assured through L.E.'s huge inventory of highest quality base stocks

Reliability - a wide range of quality 'reliability' products are available from L.E.'s global team -including contamination control, single point lubricators, lubricant storage, sight glasses, dessicant breathers & clear grease guns.

Lubrication Engineers:
"THE LUBRICATION RELIABILITY SOURCE(TM)"


More from Mounting & Attaching Products