Peristaltic Pump Systems are maintenance free.
Press Release Summary: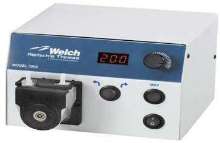 Model 3100 and 3200 Liquid Pump Systems come with 25 ft of general PVC tubing to connect pump to application, 6 silicone tubing cartridge assemblies, pump, and pump head. With out-of-the-box functionality, systems can run dry, are self-priming, and may be sterilized. Features include bi-directional flow control potentiometer (Model 3100) and switch (Model 3200); max flow switch; universal electrical design rated 90-230 V, 50/60 Hz; and flow rates from 3-300 ml/min.
---
Original Press Release:

New Peristaltic Pumps from Welch Vacuum!


Welch Rietschle Thomas of Skokie, IL has introduced two NEW Liquid Pump Systems (Model 3100 and 3200). Each is a complete peristaltic system that includes everything you need to get started: 25 ft. of general PVC tubing to connect the pump to your application, 6 precision silicone tubing cartridge assemblies (2 - 1.6mm, 2 - 3.2mm and 2 - 4.8mm) pump and pump head.

Out of the box and ready for action, Welch's Peristaltic Systems are virtually maintenance free (except for changing the tubing). Models 3100 and 3200 systems have no seals or valves that can leak. The systems are able to run dry, self-priming and sterilizable. The perfect choice for any application that is moving liquids, gases, solids, or mixed phased media.

Loaded with several key features, Welch's Peristaltic Systems are equipped with everything you need: a Bi-directional (reversible) flow control potentiometer (Model 3100) and switch (Model 3200), max flow switch, a universal electrical design (90 to 230 Volts, 50/60 Hz), stackable up to three units, flow rates from 3 to 300 ml/min@200 rpm (4.75 gal/hr) and a true RPM digital display on Model 3200.

Designed with today's end users in mind, Welch's Lok-n-Flow head and cartridge assembly design makes changing tubing as easy as 1,2,3. (1) Untwist the head's locking mechanism, (2) replace the tube cartridge, (3) snap the lock back into place and you're done. No need to look for keys or cut new tubing to length. With Welch's Lok-n-Flow cartridge assembly you're up and running in seconds.

Welch brand tubing, Lok-n-Flow cartridge assemblies, fittings and quick-connects accessories are made of the highest quality materials: Silicone, Santoprene® rubber, PVC, Viton®, Kynar®, polyethylene and nylon - everything you need to set up your Model 3100 and 3200 Peristaltic Pump Systems to your application.

Welch's Peristaltic Pump Systems are environmentally sound, easy to maintain and economical. Out of the box and ready for action, these systems and accessories are the perfect choice for any application that is moving liquids, gases, solids, or mixed phased media.

For additional information or material Chemical Compatibility Charts visit www.welchvacuum.com.

Welch Rietschle Thomas
7301 N. Central Avenue
Skokie, IL 60077 USA
Tel: 847-676-8800 - Fax: 847-677-8606
email: welchliquid@thomasind.com
www.welchvacuum.com

More from Software