Peristaltic Pump is used in ferric sulfate treatment.
Press Release Summary: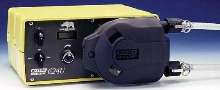 Used for metering ferric chloride into raw water, 624 U/RE wastewater treatment solution offers vacuum lift, dry priming capability with no possibility of back-flow. Design utilizes twin rollers, providing flow rates from 0.05-12.0 Lpm. Pump accommodates fluctuations in water demand and offers manual speed control, remote switching options, and digital speed display. IP55 rating ensures unit is protected against washdown and dust.
---
Original Press Release:

Watson-Marlow Bredel Offers Its 624 U/RE Pump for Ferric Sulfate Treatment Applications


Watson-Marlow Bredel, the leading peristaltic pump manufacturer, offers its low-maintenance, high-performance 624 U/RE pump. Ideal for metering ferric chloride into raw water, the 624 U/RE pump is a cost-effective wastewater treatment solution that increases pressures and flow rate capabilities, while reducing down-time.

The pump offers tremendous vacuum lift, dry priming capability and no possibility of back-flow. Its accurate flow rates and high repeatability far exceed the capabilities of traditional diaphragm pumps. The unique design of Watson-Marlow Bredel's 624 U/RE pump offers twin rollers providing flow rates ranging from 0.05 l/min to 12.0 l/min. For wastewater treatment applications, it is ideal for accommodating large fluctuations in water demand.

Designed to maximize uptime, maintenance on the 624 UR/E can be performed in one-minute with snap-fit LoadSure(TM) elements. The pump offers manual speed control, remote switching options and a digital speed display. Its ingress protection (IP) classification of IP55 protects the cased drives against washdown and dust for safe operation in any environment.

Every Watson-Marlow Bredel peristaltic pump is an inherent metering pump with repeatability at 99.5%. Many models include integral digital drives and displays in washdown enclosures. These self-priming pumps accommodate flow rates from 0.1 microliter to 350 gpm, and are extremely durable, withstanding pressures up to 232 psi. There are no internal universal joints, valves, dead corners, or glands to impede flow, and these pumps are reversible for back flushing lines. They can also run dry indefinitely without damage and provide up to a 30-foot suction lift.

About Watson-Marlow Bredel
Watson-Marlow Bredel Pumps is the leading manufacturer of peristaltic pumps. For over 40 years they have been solving fluid handling problems with peristaltic pumping technology. Products are manufactured in an ISO 9001 facility.

For more information about Watson-Marlow Bredel, call (800) 282-8823, or visit our website, www.wmbpumps.com.