Perfusing Stage Incubator supports long-duration cell studies.
Press Release Summary: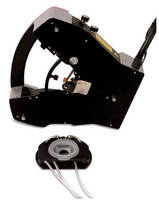 BioScope(TM) Catalyst(TM) Perfusing Stage Incubator for BioScope Catalyst AFM features incubation and perfusion options including continuous or intermittent liquid perfusion, heating, and maintenance of CO
2
buffered media. Included Microscope Image Registration and Overlay (MIRO) automatically imports and rescales light microscope images. System's top-down laser path permits uncompromised use of phase contrast, differential interference contrast, and brightfield optical microscopy.
---
Original Press Release:

Veeco Introduces Perfusing Stage Incubator for the BioScope Catalyst AFM Enabling Advanced Long-Term Live Cell Studies



Santa Barbara - Veeco Instruments Inc., the leading provider of scanning probe microscopes (SPM) to the nanoscience community announces the BioScope(TM) Catalyst(TM) Perfusing Stage Incubator to facilitate cell biology studies using simultaneous AFM and optical methods. This accessory enables researchers to maintain ideal cell culture conditions for long-duration live cell studies with Veeco's Catalyst AFM, significantly extending cell viability over hours or even days.

Featuring a broad range of incubation and perfusion options, including continuous or intermittent liquid perfusion, heating, and maintenance of carbon dioxide buffered media, the Perfusing Stage Incubator accessory optimizes the Catalyst's ideal integration between atomic force microscopy and optical microscopy techniques. Researchers are able to observe dynamic, long-duration events without compromising the full capabilities of either technology or the samples. The accessory also supports Veeco's exclusive Microscope Image Registration and Overlay (MIRO) feature, which automatically imports and rescales light microscope images to then be used to direct the location of AFM imaging and force measurements.

In addition to the Perfusing Stage Incubator, the BioScope Catalyst AFM incorporates many features addressing the unique requirements of life science samples, including heating capabilities and flexible mounting options. The system utilizes a top-down laser path that permits uncompromised use of phase contrast, differential interference contrast, and brightfield optical microscopy, while offering unmatched optical and physical access from the top of the AFM head. Compatibility with the top inverted optical microscope brands, as well as with their standard condensers and a full turret of objectives, ensures non-limited optical capabilities. For more information about the BioScope Catalyst Perfusing Stage Incubator, please visit www.veeco.com/PSI, email metrologyinfo@veeco.com, or call +1.805.967.1400.

About Veeco

Veeco Instruments Inc. designs, manufactures, markets and services enabling solutions for customers in the HB-LED, solar, data storage, semiconductor, scientific research and industrial markets. We have leading technology positions in our three businesses: LED & Solar Process Equipment, Data Storage Process Equipment, and Metrology Instruments. Veeco's product development, marketing, engineering and manufacturing facilities are located in New York, New Jersey, California, Colorado, Arizona, Massachusetts and Minnesota. Global sales and service offices are located throughout the U.S., Europe, Japan and Asia Pacific. www.veeco.com

More from Controls & Controllers