Performer™ Dock Seal comes with friction-resistant Durathon® fabric.
Press Release Summary: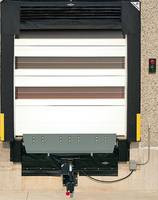 Performer™ Dock Seal is offered in High Performance head pad and backerless header designs. Featuring self-locking head curtain design for sealing trailer top, product uses Firefighter® heat-dissipation technology for preventing from fire caused by compressed trailer marker lights. Performer™ Dock Seal is compatible with PitMaster sealing systems. With its internal stabilizing panel, seals comes with impactable header frame.
---
Original Press Release:
New Performer™ Dock Seal Offers Maximum Environmental Protection, Durability
Rite-Hite's new Performer™ Dock Seal uses advanced, durable materials with the latest in dock seal design to effectively seal gaps at loading dock doors and reduce trailer-related wear and tear. The Performer represents the top end of Rite-Hite's newly introduced "Good, Better, Best" dock seal line-up, also featuring the Classic™ seal, available with traditional or High Performance header systems.
Rugged, friction-resistant Durathon® fabric is featured throughout the Performer seal. It not only covers the vinyl base layer of the pleat-free side pad face (giving it a smooth, abrasion-reducing surface), but also is used to provide full-height inside side pad reinforcement to protect against damage from forklifts and loads. In the corners, where the earliest and most severe damage often occurs, Durathon covers multiple layers of protection on the corner wear boots. If damage does occur, the corner wear boots can be easily removed and replaced, without replacing the full header.
"When a seal or shelter wears out, it can't effectively do its job of keeping in conditioned air, while keeping out outside air, weather and contaminants," says Mary Blaser, Rite-Hite Environmental Enclosures director of marketing. "Thanks to its advanced design with High Performance headers and reinforced side pads, the Performer holds up long-term and does the job traditional dock seals can't."
The Performer dock seal comes in two unique designs. The High Performance head pad (pictured above on left) model is ideal for standard over-the-road trailers and uses a distinctive pivoting, backerless header design to reduce damage from extreme pressure and trailer movement as well as prevent head pad pop-off. Its internal stabilizing panel helps prevent sagging of the foam pad from repeated trailer impacts and bouncing.
The Performer High Performance head curtain model (pictured above in middle and illustration above at right), is designed for docks that receive trailers of varying heights. It features a self-locking head curtain design to improve sealing at the trailer top, eliminating the need for wind straps. It also incorporates an impactable header frame to minimize damage from trailers that come in and impact too high.
Both versions of the header use mini pleats to close gaps caused by protrusions that are common on the backs of trailers. The head pad and curtain both use Firefighter® heat-dissipation technology that prevents the seal from being burned by compressed trailer marker lights. This protects workers and facilities from potential fire- and smoke-related hazards.
To achieve an even better seal, the Performer Dock Seal is compatible with the PitMaster sealing system to close gaps beneath and around the dock leveler and bumpers. Sealing the fourth side of the dock opening can boost energy savings, improve cleanliness and help pass inspections.
For more information about the Performer Dock Seal, visit: https://www.ritehite.com/en/am/products/dock-seals-and-shelters/dock-seals/performer.
About Rite-Hite
Rite-Hite, headquartered in Milwaukee, Wisconsin, is a leading manufacturer of material handling systems designed for maximum safety and productivity. Principal product lines include trailer restraints, dock levelers, integrated controls, dock seals and shelters, industrial power doors, fabric curtain walls, HVLS Fans and aftermarket products and services. For more information, visit RiteHite.com or call 1-800-456-0600.
More from Controls & Controllers