Perforated Acoustical Gypsum Panel can create curved ceilings.
Press Release Summary: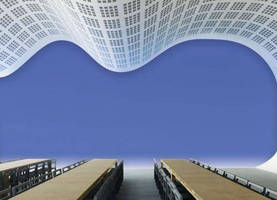 Able to create seamless, curved ceilings without custom fabrication, 6.5 mm thick Gyptone® BIG™ Curve can be dry bent to 10 ft radius or achieve up to 5 ft radius via wet bending. Malleable product with acoustical backing tissue is offered with various perforation patterns. With NRC up to 0.70 and ability to fine tune acoustics based on placement and curve radius, these modular, 2,400 x 1,200 mm panels are pre-finished in bright white to maximize light distribution.
---
Original Press Release:

Revolutionary Gyptone® BIG(TM) Curve Panels Create Limitless Possibilities for Sweeping Architectural Ceilings



Industry-First Product Makes Dynamic Curved Designs Possible Without Custom Fabrication



VALLEY FORGE, Pa. – CertainTeed Ceilings is bending the rules of ceiling design with the introduction of Gyptone® BIG™ Curve, the industry's only perforated acoustical gypsum panel that can achieve highly curved ceilings without the cost and time associated with custom fabrication. It seamlessly integrates with the company's other revolutionary Gyptone products to create dynamic, sweeping interior surfaces without any breaks or grid.



Bendable by Design

At only 6.5 mm thick, Gyptone BIG Curve can be easily dry bent to a 10-foot radius, and can achieve up to a 5-foot radius by wet bending. Such a malleable product radically broadens the universe of design options available to an architect. It's a perfect solution for spaces that require not only breathtaking style, but sound acoustics and indoor comfort, as well.



"Gyptone BIG Curve enables avant-garde architectural design without expensive custom products or time- and labor-intensive installation," said Christine Fonock-Smith, product manager for CertainTeed Ceilings. "It's also highly sound absorptive, so function and occupant comfort never have to be at odds with cutting-edge design."



Uncompromising Acoustics

The company's commitment to Environmental Acoustics™ design means the new product uniquely melds style, acoustical performance and sustainability. Interiors installed with Gyptone BIG Curve are meant to inspire and help people thrive.



The panels are fitted with an acoustical backing tissue and are available in a variety of striking perforation patterns, each with varying degrees of sound absorption and eye-catching beauty. With an NRC up to 0.70 and the ability to fine tune acoustics based on placement and curve radius, Gyptone BIG Curve is ideal for calming healing environments, inspirational learning spaces and engaging workplaces.



Seamless Interplay Between Ceiling and Light

Gyptone BIG Curve comes in modular 2400mm x 1200mm panels, which are pre-finished in a bright white to maximize light distribution. However, the panels can be easily painted with a short nap roller to complement any palette or add an attention-grabbing burst of color. This means the entire character of a space can be redefined with just a simple coat of paint, making it extremely flexible for future updates.



Also, Gyptone BIG Curve ceilings are designed for simple integration of lighting elements, creating harmonic interplay where ceiling and light naturally blend into the collective architecture. Light fixtures and ventilation can serve as breaks in the ceiling surface, or can be pulled back into the recesses for a simple backlit design. Again, the only limit is the designer's imagination.



Industry-Leading Product Transparency

Made of 85 percent recycled content and certified for low-VOC emissions, Gyptone BIG Curve contributes to sustainable building standards and helps maintain high indoor air quality. It is also covered by CertainTeed's industry-first collection of Health Product Declarations (HPDs) for ceilings solutions. By providing detailed information on the product's makeup, the HPD contributes to important materials and resources credits under the newest version of LEED, which places greater emphasis on product transparency.



For more information, visit http://www.certainteed.com/ceilings.



Media Contact Info:

For more information contact:

Michael B. Loughery

CertainTeed

(610) 341-7328

mike.b.loughery@saint-gobain.com

www.certainteed.com/pressroom