PerfectPitch® Pipe Supporter meets IMC condensate pitch standards.
Press Release Summary: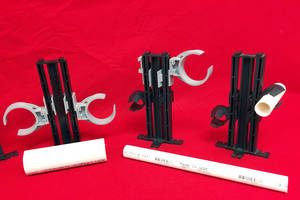 PerfectPitch® Condensate Pipe Supporter is used for condensate and waste drain line pipe installations in attics, mechanical rooms and crawl spaces. Featuring adjustable stems from 8 in. tall stanchions with 1/8 in. incremental gear teeth, PerfectPitch's starter kit consists of universal clamps that fit 1/2 in., 3/4 in., or 1 in. pipes. Unit's integral ruler and gear teeth offer precise vertical lock-in-place adjustments of pipe clamps and each stanchion can withstand a 45 lb weight.
---
Original Press Release:
Marketair Introduces PerfectPitch® Condensate Pipe Supporter/Leveler
PerfectPitch® is the quickest pitch leveling pipe support system to prevent A/C and condensing heating equipment condensate drain lines from blockages, overflows.
Marketair, Edison, N.J., a leading provider of HVAC/R installation and service accessories/tools, introduces PerfectPitch®, the HVAC industry's only adjustable pitch leveling pipe supporter for residential and commercial condensate and waste drain line pipe installations in attics, mechanical rooms and crawl spaces. Invented by an HVAC contractor, the patented PerfectPitch cuts condensate and waste piping installation time by up to 75-percent, while also presenting a professional project appearance.
PerfectPitch's adjustability stems from 8-inch-tall (20-cm) stanchions with incremental 1/8-inch (3-mm) gear teeth that allow its accompanying universal pipe clamps to be precisely positioned for perfectly pitched piping runs of up to 50 feet (15-meter) long.
Incorrectly pitched drain lines inhibit condensate flow and often result in dips, which can attract blockages of debris and biological materials acting as secondary traps. This results in reduced condensate flow and potential indoor air quality problems.
Instead of cutting different heights of wood blocks or other time-consuming and inaccurate methods, PerfectPitch stanchions quickly screw to substrate floors, ceiling beams or roof trusses at support increments compliant with all local and national codes. The stanchions' integral ruler and gear teeth allow quick and precise vertical lock-in-place adjustments of pipe clamps without the need for measuring, leveling or cutting. PerfectPitch conforms to all code requirements, such as the International Mechanical Code's (IMC) condensate pitch standard of 1/8-inch/foot.
PerfectPitch's starter kit accommodates the average-sized house and includes five stanchions and five accompanying universal clamps that fit 1/2-inch (12-mm), 3/4-inch (19-mm), or 1-inch (25-mm) pipe.
For condensing heating boilers and furnaces, PerfectPitch properly pitches the condensate back into the unit, with 2-inch (50-mm) or 3-inch (76-mm) pipe clamps/adaptor clips, which can be purchased separately.
Other PerfectPitch features include:
Helps prevent condensate drain line overflow, which according to a study by the Hartford Insurance Company confirms that water damage is the second most frequently filed insurance claim in the U.S.;
The stanchions have integral rulers of 1 to 8-inch and 9 to 16-inch on opposite sides to permit stacking when longer piping runs require pitches beyond eight inches;
Each heavy-duty stanchion can withstand a 45-pound weight capacity;
The starter kit is packaged in a clear plastic bag with an attractive cardboard header designed for J-hook display;
Supplementary clamps to permit multiple drain lines can be supported. This allows normal air conditioning drain lines to be pitched away from the unit, while stanchions can simultaneously support counter flow drain lines pitched back to condensing boilers and furnaces;
Besides the starter kit, the product line includes four other packaged skus in —1) five 2-inch-diameter (50-mm) clamps; 2) five 3-inch-diameter (76-mm) clamps; 3) five stanchions; 4) five universal clamps;
And each stanchion has an angled slot base allowing drill chuck clearance.
PerfectPitch is available at most wholesale HVAC distributors. For more PerfectPitch information or to receive a free Marketair HVAC/R products catalog, please visit www.marketair.com, call (732) 985-8226 or email: info@marketair.com.
About Marketair: Originally founded by President Gerry Spanger as a manufacturer's representative company in 1986, Marketair has now reinvented itself as an importer, exporter, manufacturer and distributor specializing in components and accessories for the HVAC industry. Headquartered in Edison, N.J., Marketair has acquired several innovative new products for commercial and residential HVAC applications, covering both the ducted and minisplit (ductless) sectors. Marketair operates as a national distributor for smaller independent U.S. manufacturers. The company has established a national network of manufacturer's representatives through which these products are sold in the HVAC/R industry wholesale distributors. It has aRDo established a centrally-located warehouse for shipping products throughout the U.S.
Contact:
Gerry Spanger 
Marketair Inc.  
(732) 985-8226  
More from Materials