Peifer Waterjet Creates Stainless Steel Plates for Use in Bikes Racks Using WaterJet Cutting Services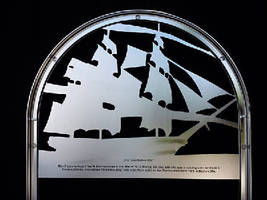 Peifer Waterjet, located in Ronks, PA, was commissioned by SPEIGHT Studio Architects to cut sailing/maritime vessels into stainless steel plates for use in artistic bike racks in Annapolis, MD. The bike racks with positive and negative images of the maritime vessels are located throughout city. Silhouettes of the earliest sailing vessels were installed at the historic City Dock while the more contemporary versions were located in newer parts of the City. The bike racks also include a brief narrative which identifies the historic significance of the vessel.



About Us:

In 1965, Peifer Welding was formed, specializing in residential ornamental railing, porch columns, gates, and spiral stairways. In 1972, the company was incorporated and is now operated by the founder's son Craig Peifer, and son-in-law James Keener.



Peifer is dedicated to an outstanding quality of work consisting mostly of commercial construction including railings, stair towers, small structural steel, and miscellaneous fabrication in steel, aluminum, and stainless steel. PWI also provides water jet cutting services featuring a Hydra Jet cutting system. We utilize an abrasive waterjet cutting system to provide precise and efficient cutting of metal and non-metallic materials. We can cut large components, small precision parts and prototypes with exceptional edge quality within a +/- 0.003 in. accuracy.  Materials cut include Acrylic, metals, alloys, ceramics, foams, glass, plastics, rubber, wood, and many more materials.



For more information call 717-687-7581, email mail@peiferwelding.com or visit our website www.peiferwelding.com.







More from Architectural & Civil Engineering Products