Peco-Inspx Introduces VacTrac III Dud/Pressure Inspection System for Cardboards and Plastic Sleeved Beverage Products
Press Release Summary: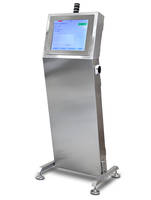 The VacTrac III Dud/Pressure Inspection System supports both single file and multiple row sleeving arrangements. The system is designed for detecting leaks present in beverage products. It enables beer and beverage operators to verify pressure of metal beverage containers after packaged in a sleeve. The VacTrac allows inspection in very tight spaces.
---
Original Press Release:
Peco-Inspx Announces Pressure Inspection within Standard Beer and Beverage Sleeving Machines
Detect Low Pressure Cans Within Cardboard Packaging Sleeves.
SAN CARLOS, CALIF. (PRWEB) DECEMBER 31, 2018 - Peco-InspX is proud to announce its VacTrac III dud/pressure inspection system for cardboard and plastic sleeved beverage products. The VacTrac can support both single file and multiple row sleeving arrangements.
Beer and beverage operators need to verify the pressure of metal beverage containers after they are packaged in a sleeve, as sleeving equipment that has come out of adjustment can damage beverage cans, causing them to leak and make the beverage inside go flat.
Detecting these leaks presents a large challenge, as modern dud detectors and pressure monitors cannot reliably inspect containers that are within a sleeve. This is particularly true of laser type systems that read the container lid deflection from a reference point, as these lasers cannot penetrate the sleeve packaging and therefore do not work for this application.
Another challenge is space. Most beverage operators would ideally like to inspect the sleeved packages within the sleeving machine, as this approach does not consume any additional line space for the inspection equipment. Since the Peco-Inspx VacTrac leverages a very small footprint sensing head, the inspection can be done in very tight spaces, including within the footprint of many sleeving machines.
"Our sleeved product inspection solution is a low cost and highly reliable system for beverage operators to ensure that their final product is properly sealed, completely eliminating a disappointing customer experience due to a stale beer or empty can," said Peco-InspX CEO Rich Cisek. "Additionally, the VacTrac system is very easy to operate and its 100% solid state design gives it extreme reliability for a very low cost of ownership," continued Cisek.
About Peco-InspX 
Peco-InspX Corporation is a leading provider of advanced technology inspection solutions for the food and beverage industries. With headquarters in Silicon Valley (San Carlos), CA and European headquarters in Nuneaton, UK, the company serves customers around the world and inspects over 120 million food and beverage containers daily. The company specializes in accurate high-speed package inspection in machines that are easy to use with a low cost of ownership.
Contact Information
PR Dept.
Peco-Inspx
(877) 722-6875
More from Test & Measurement