PDA Detector enables measurement of polymers and biopolymers.
Press Release Summary: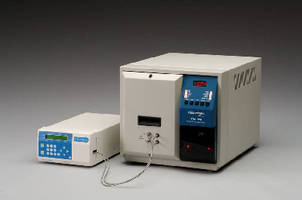 Designed for TDAmax(TM) gel permeation chromatography/size exclusion chromatography system, Photodiode Array Detector offers tool for rapid analysis of both polymers and biological macromolecules. By capturing absorption spectra across UV-vis wavelength range, detector provides fingerprint of each time slice of sample as it elutes from column. Applications include identifying protein conjugates and complexes, aggregation and stability, and determining concentration ratios.
---
Original Press Release:

New Viscotek GPC/SEC Detector Allows Sophisticated Measurement of Polymers and Biopolymers



24 February 2009: Malvern, UK: A new photodiode array (PDA) detector for the TDAmax(TM) gel permeation chromatography/size exclusion chromatography (GPC/SEC) system from Viscotek, a Malvern company, provides a powerful and flexible tool for the rapid analysis of both polymers and biological macromolecules. The PDA is ideal for the analysis of blends used to produce high performance polymers, and the product streams from complex copolymerisation reactions. Its many applications in the life sciences include identifying protein conjugates and complexes, aggregation and stability, and determining concentration ratios.

The TDAmax is a comprehensive GPC/SEC system with an integrated triple or tetra detector array. By capturing absorption spectra across the UV-vis wavelength range, the new PDA detector provides a fingerprint of each 'time slice' of the sample as it elutes from the column. Measurement times are just 30 to 40 minutes, making the system highly productive.

UV detection is used routinely to identify protein and polymer species as they elute, and can differentiate between components when other detection methods cannot. However, a conventional system measures at a single wavelength. In contrast, the new PDA detector captures data across the range 190 to 500 nm, allowing users to select wavelengths of interest after the analysis has been carried out.

The PDA also has particular application in the field of smart material research, since unique electrical, thermal or photochromic properties often correlate directly with UV absorption characteristics. The information it gives can be used in both product and process development.

The UV cell of the PDA sits in the temperature controlled zone of the TDAMax(TM), operating at up to 80oC. Viscotek's powerful OmniSEC(TM) software package allows data to be displayed as information-rich 3-D images that simplify interpretation.

Gel Permeation Chromatography (GPC), also known as Size Exclusion Chromatography (SEC), is a chromatographic technique that employs specialized columns to separate natural and synthetic polymers, biopolymers and nanoparticles on the basis of size. When GPC/SEC is coupled with advanced detectors a range of additional parameters can be determined, including intrinsic viscosity, molecular size, and long chain branching.

Malvern and Malvern Instruments are registered trademarks of Malvern Instruments Ltd

About Viscotek

Viscotek, a Malvern company, is market leader in advanced chromatography (GPC/SEC), offering complete systems for protein molecular weight, size and aggregation measurements, and synthetic polymer molecular weight and distribution. Its dilute solution viscosity (DSV) instrumentation, for example, provides manual and automated solutions for polymer characterization. Triple and Tetra GPC detectors enable absolute molecular weight measurement without calibration, an online PhotoDiode Array Detector permits chemical identification, and HT-GPC solutions provide for High-Temperature GPC of polyolefins and other synthetic polymers.

About Malvern Instruments

Malvern Instruments provides a range of complementary materials characterization tools that deliver inter-related measurements reflecting the complexities of particulates and disperse systems, nanomaterials and macromolecules. Analytical instruments from Malvern are used in the characterization of a wide variety of materials, from industrial bulk powders to nanomaterials and delicate macromolecules. A broad portfolio of innovative technologies is combined with intelligent, user-friendly software. These systems deliver industrially relevant data enabling our customers to make the connection between micro (such as particle size) and macro (bulk) material properties (rheology) and chemical composition (chemical imaging).

Particle size, particle shape, zeta potential, molecular weight, chemical composition and rheological properties measurements are now joined by advanced chromatography solutions (GPC/SEC), extending Malvern's technologies for protein molecular weight, size and aggregation measurements, and synthetic polymer molecular weight and distribution. The company's laboratory, at-line, on-line and in-line solutions are proven in sectors as diverse as cement production and pharmaceutical drug discovery.

Headquartered in Malvern, UK, Malvern Instruments has subsidiary organizations in all major European markets, North America, China, Korea and Japan, a joint venture in India, a global distributor network and applications laboratories around the world. www.malvern.com


Related