PCMag Awards The Lockerstor 2 The Editor's Choice Award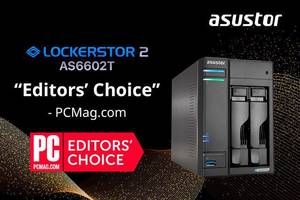 Taipei, Taiwan - 15 December 2020 - The ASUSTOR Lockerstor 2 recently was selected to receive the Editors' Choice award by PCMag. The Lockerstor 2 with its 2.5-Gigabit ports, a Gemini Lake Intel Celeron Quad-Core processor, 4GB of DDR4 memory and dual M.2 NVMe SSD slots provide an amazing experience that PCMag also recognizes. Take advantage of the iGPU and built-in HDMI to bring out an ever-smoother 4K experience. Also, link both 2.5-Gigabit Ethernet ports for a blazing fast five Gigabits per second of aggregated speed, creating an environment that exceeds of a variety of uses.
The Lockerstor 2 has more than 340 applications that include but are not limited to backup software, commercial software, home entertainment, professional design, and security surveillance. The stable operation of ADM combined with the variety of apps and over-engineered hardware brings an award-winning experience validated by independent tech media such as PCMag.
Learn more at: http://www.asustor.com/
Read the review here: https://www.pcmag.com/reviews/asustor-lockerstor-2-as6602t
About ASUSTOR Inc.
Founded in 2011, ASUSTOR Inc. was established via direct investment from ASUSTeK Computer Inc. The ASUSTOR brand name was created as a portmanteau of "ASUS" and "Storage". ASUSTOR is a leading innovator and provider of private cloud storage (network attached storage) and video surveillance (network video recorder) solutions, also specializing in the development and integration of related firmware, hardware and applications. We are devoted to providing the world with unparalleled user experiences and the most complete set of network storage solutions possible.
Media Contact: marketing@asustor.com
Related