PCIe Gigabit Ethernet Card suits SFF computing applications.
Press Release Summary: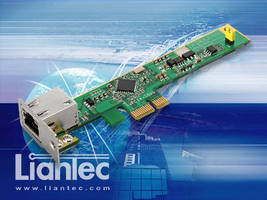 With ultra low profile 1U slim PCIe add-on card form factor, Model 1uPCIe-1000 is suitable for systems with 1U or 1.75 in. of system height and can be installed without additional riser card. Card features onboard Intel PCIe 82574L Gigabit Ethernet controller and support for auto-switching 10/100/1000BASE Ethernet networking connection as well as Wake-on-LAN functions. Based on standard PCI Express bus interface, 1uPCIe is supported by motherboards with x1 PCI Express expansion slot.
---
Original Press Release:

Liantec Announce 1uPCIe-1000 Ultra Low Profile 1U Slim PCIe Intel Gbit Ethernet Solution for Industrial Low Profile Small Form Factor Computing Application



Liantec Announce 1uPCIe-1000 Ultra Low Profile 1U Slim PCIe Intel Gbit Ethernet Solution for Industrial Low Profile Small Form Factor Computing Application



Liantec announce the 1uPCIe-1000 industrial ultra low profile 1U slim PCIe Intel Gigabit Ethernet card solution. The 1uPCIe-1000 is based on the form factor of ultra low profile 1U slim add-on card, features onboard Intel PCIe 82574L Gigabit Ethernet controller, supports auto-switching 10/100/1000BASE Ethernet networking connection and Wake-on-LAN (WoL) functions, meets 1U or 1.75 inches of system height without additional riser card.



The 1uPCIe 1U slim PCI Express add-on card series are designed for the ultra low profile systems with 1U or 1.75 inches of height, can be installed directly without additional riser cards. Based on the standard PCI Express bus interface, the 1uPCIe series can be supported by the popular motherboards with x1 PCI Express expansion slot. That is, the 1uPCIe series 1U slim PCI Express add-on cards can be used on normal motherboards with PCIe slots, bringing the benefits of expansibility, space-saving and cost-saving for system integrators to build more interfaces in space-limited small form factor and low profile systems, rather than additional riser card and costly high-integrated motherboards.



With the features of ultra low profile 1U slim form factor and Intel Gbit Ethernet networking solution, the 1uPCIe-1000 meets the demand of industrial small form factor computing applications, slim type networking servers, and other industrial high-density, low profile, embedded applied computing solutions.



Key Features

• Ultra Low Profile 1U Slim PCIe Add-on Card Form Factor. Meet 1U (1.75inch) Height of Slim Systems.

• x1 PCI Express Bus Interface with Standard Golden Finger.

• Intel PCIe 82574L Gigabit Ethernet Controller.

• Support 10/100/1000BASE-TX Auto-switching, IEEE802.3U Compliant.

• Support Wake-On-LAN (WoL) Function.

• External RJ45 Connector with Link and 100/1000 Mode LED.

• Meet 1U or 1.75 inches Height of Slim Systems. Install Directly without Additional Riser Card.

• Suitable for 2U Low Profile Systems with Better Air Flow for Thermal Solution.

• Compact Size @ 31.5 x 130 mm (H x L)



For the further information about Liantec 1uPCIe-1000 Ultra Low Profile 1U Slim PCIe Intel Gbit Ethernet card, please visit the websites at http://www.liantec.com/product/1uPCIe-1000.htm .



About 1uPCIe series 1U Slim PCI Express Add-on Card

Liantec 1uPCIe 1U slim PCI Express add-on card series are designed for the ultra low profile systems with 1U or 1.75 inches of height, can be installed directly without additional riser cards. Based on the standard PCI Express bus interface, the 1uPCIe series can be supported by the popular motherboards with x1 PCI Express expansion slot. That is, the 1uPCIe series 1U slim PCI Express add-on cards can be used on normal motherboards with PCIe slots, bringing the benefits of expansibility, space-saving and cost-saving for system integrators to build more interfaces in space-limited small form factor and low profile systems, rather than additional riser card and costly high-integrated motherboards.



For the further information about Liantec 1uPCIe Ultra Low Profile 1U Slim PCIe add-on cards, please visit the website at http://www.liantec.com/product/1uPCIe.htm .



About Liantec Systems Corporation

Liantec® focuses on designing and manufacturing the industrial x86 PC-based computing platform, especially with small form factor and low power consumption. The distinguishing features of Liantec's products lies in its proprietary Tiny-Bus® modular extension solution and Ultra Low Profile PCIe / PCI extension solution for the industrial embedded computing applications.



For the further information about Liantec, please visit the website at www.liantec.com

More from Electronic Components & Devices