PCI DAQ Card includes built-in auto-calibration function.
Press Release Summary: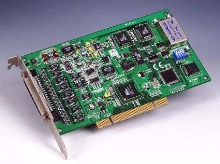 Model PCI-1747U has 64 analog input channels, 16-bit resolution, and 250 kS/s sampling rate. Onboard SRAM stores differential gain, single-ended/differential, and bipolar/unipolar values for each channel. Automatic channel/gain/SD/BU scanning circuit controls multiplexer switching during sampling. Board includes BoardID switch and plug-and-play function, as well as universal PCI interface to support 3.3 and 5 V. Device drivers are available for Windows® XP/2000/98.
---
Original Press Release:

Advantech Releases Universal PCI DAQ Card with Ultra-High Density Analog Inputs


Cincinnati, Ohio (March 24, 2005) - Advantech Corporation, Industrial Automation Group introduced a new member to its family of PCI-bus analog input DAQ cards. PCI-1747U has 64 analog input channels, 16-bit resolution, and a 250 kS/s sampling rate. Unlike many cards in the market, the PCI-1747U can run at 250 kS/s even when different ranges are used on its 64 channels.

For engineers that have been without critical instruments because of recalibration, there is a particularly welcome feature - a built-in auto-calibration function which can reduce downtime hours to seconds.

The PCI-1747U features an automatic channel/gain/SD/BU scanning circuit. This circuit controls multiplexer switching during sampling in a way that is more efficient than software implementation. Onboard SRAM stores different gain, SD (Single-Ended/Differential) and BU (Bipolar/Unipolar) values for each channel. This combination makes it possible to perform multi-channel high-speed sampling with different gain, SD and BU values for each channel.

The high resolution, high speed and flexible input type make PCI-1747U suitable for a wide range of application requirements where intense analog inputs but minimum demand of PCI slots is required.

In addition to high performance, the card also includes standard features such as Advantech's BoardID switch and plug-and-play function for easier configuration as well as a universal PCI interface to support both 3.3 and 5 volts. Device drivers are available for Windows® XP, 2000 and 98. In addition, ActiveX control for VB .NET, C# .NET programming tools and LabVIEW driver for LabVIEW are also available and free for you.

The PCI-1747U has a list price of $$995. It is available for purchase directly from Advantech or from one of Advantech's North American distributors at eAutomationPro.com.

For more information or to locate an Advantech distributor, visit eAutomationPro.com.

Advantech Corporation, Industrial Automation Group - Founded in 1983, the Industrial Automation Group of Advantech Corporation is the only complete PC-based Industrial Automation Solution Manufacturer offering products such as Industrial PCs, Workstations, Panel PCs, Flat Panel Monitors, Heavy Environmental PCs, Customized PCs, Single Board Computers, Data Acquisition & Control Devices and Web-enabled products for a wide array of industries. Drawing on the talents of more than 1,800 people, Advantech operates an extensive sales and marketing network in 16 countries and 35 major cities to deliver fast time-to-market services to our worldwide customers. Today Advantech offers over 700 products and solutions, adding 30 new products each year. US operations for the Industrial Automation Group are based in Cincinnati, OH (877-294-8989). Address: 1320 Kemper Meadow Drive, Suite 500, Cincinnati, Ohio 45240. Web: eAutomationPro.com. Email: info@eAutomationPro.com

Brandon Rhoten
Advantech Corporation, Industrial Automation Group
(513) 742-8895 x333
website: eAutomationPro.com
media website: http://www.advantech-eautomation.com/media

More from Software