PCI Cards are compatible with old and new PCs.
Press Release Summary: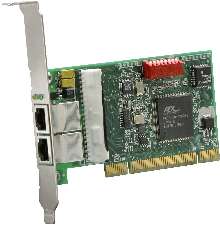 Universal voltage, ARCNET PCI20U network interface modules are compatible with 3.3 V and 5 V computers. Six models link PCI and PCI-X bus compatible computers with ARCNET LAN. Units allow for jumperless configuration and plug-and-play functionality. Each 32-bit, 33 MHz bus card operates with NDIS driver or null stack driver in Windows environment. Two LEDs monitor network operation and bus access to module. Standard height and ½ height brackets are supplied.
---
Original Press Release:
Universal ARCNET PCI Card Compatible with Old and New PCs

Downers Grove, Illinois (April 12, 2004) - The PCI standard requires that plug-in boards use a +3.3 V power source provided by the PC motherboard, making the +5 V power source obsolete.

In response to this development, Contemporary Controls has introduced a universal voltage PCI ARCNET network interface module which is compatible with both new +3.3 Volt ("PCI-X") and older, 5-Volt computers.

George Karones, Engineering Manager for Contemporary Controls, says the PCI20U is a drop-in replacement for the PCI20, +5 V PCI card. "This removes any work needed by the user to migrate to +3.3 V PCI or PCI-X slot motherboards," says Karones. "This demonstrates our commitment to ARCNET technology and to our customers' requirements for legacy installations."

The six models in the PCI20U Series of ARCNET network interface modules link PCI and PCI-X bus compatible computers with the ARCNET local area network (LAN). The PCI20U Series allows for jumperless configuration and Plug and Play functionality.

Each module operates with either an NDIS driver or a null stack driver in a Windows environment.

Card dimensions are in harmony with the PCI, low-profile, add-in card specification which is 2.50 inches x 4.72 inches (64 mm x 120 mm). Both standard height and one-half height brackets are supplied with this 32-bit interface, 33 MHz bus card.

The module's board has two LEDs for monitoring network operation and bus access to the module. In addition, there is a DIP switch so that node addresses can be easily reassigned without removing the module.

The price of each PCI20U is $245 with availability scheduled for the month of April 2004.
More from Machinery & Machining Tools