PCC Ships Continuous Powder System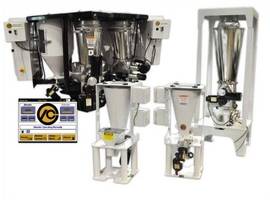 PCC's Continuous Powder System is our most complex continuous blending system to date. With a total of ten ingredients, the blending system features PCC's latest non‐proprietary, touchscreen control system and Brushless DC auger gear motors and drives. The six element, XU universal blender frame includes two pellet feeders, two regrind feeders, with bridge breakers, and two powder feeders. On standalone feeder frames, with integral loading support platforms, are two more pellet feeders and a third powder feeder.   The tenth ingredient is a liquid, metered by a customer supplied gear pump, being controlled through the PCC system.   Rounding out this unique blending solution is the PCC Material Handling System which includes a Vacuum Pump, Dust Collector, Standard Powder Receivers for Dusty Regrind, and Special Powder Receiver with 70 Degree Cone and 5" Flapper Discharge.
Established in 1967, PCC has an unending commitment to the design and engineering of advanced auxiliary machinery for the plastics processing industry. Our goal is to provide the most accurate equipment and exceptional customer service. We revolutionized processing with development of Automatic Scrap Recycling for in-line processing of film scrap and the first continuous gravimetric blending system. Process Control continues to lead the industry with advanced design and innovative solutions for the global marketplace.
Please visit our website at www.process-control.com.
More from Material Processing