PCB Packaging Hardware is lead-free.
Press Release Summary: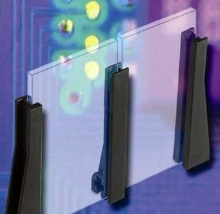 Offered in 571+ different styles and sizes, line of snap-in and vertical, standard-mount card guides accommodate 1/16, 3/32, or 1/8 in. PCBs and are manufactured in compliance with WEEE and RoHS Pb-free materials and processes. Offered in 31 styles, VERT-O-GIDE(TM) offers 2-channel vertical guide for 1/16 in. PCBs. Line also includes CARD-O-PULL(TM) PCB ejectors, inserter/extractors, PCB handles and CUT-OUT-COVER(TM) connector cutout covers.
---
Original Press Release:

Bivar Introduces Complete Line of PB-Free Printed Circuit Board Packaging Hardware to Meet Increasing Global Requirements


Full Line of Card Guides, Ejectors & Handles Produced With RoHS PB-Free materials/processes Creates World's Largest Packaging Hardware Selection

Irvine, CA, March 17, 2005 - Bivar, Inc., has announced a new line of snap-in and vertical, standard-mount card guides, PCB Ejectors and Handles, all manufactured in compliance with WEEE and RoHS PB Free materials and processes to meet growing global emphasis on environmental responsibility. With the new PB-Free materials offered in these popular configurations, applications for these products include the latest PCB packaging technologies in telecommunications, computer peripherals, test and medical diagnostic instruments and equipment, and plant system enclosures.

Lead by Bivar's popular brands of ECON-O-GIDE®, STAT-O-GIDE(TM) snap-in card guides and COMP-O-GIDE(TM), a full selection of industry compatible card guides, the new PB-Free line is also complimented by their unique CIRC-O-GIDE(TM) circular card guides, TEMP-O-GIDE(TM) flame retardant card guides, and GRIP-O-GIDE(TM) deep channel card guides. Products within this large selection of type and styles will accommodate a combination of 1/16", 3/32" and 1/8" PC boards.

Bivar's VERT-O-GIDE(TM), offers a dual channel vertical guide for 1/16" PCBs, that offers upwards of 31 styles, eliminating the need of card cages in applications where PCBs can be vertically mounted, saving significant space while also offering a packaging sub-system that saves up to 25% in guide use when used in tandem board installations.

The new line also includes Bivar's CARD-O-PULL(TM) line of PCB ejectors, inserter/extractors, PCB handles and CUT-OUT-COVER(TM) line of connector cutout covers, completing the full offering of precision molded products, specifically designed for more efficient PCB packaging.

"We are particularly excited with the introduction of this full PB-Free line of packaging hardware, as it further expands this product group into a true, globally viable line with a broad applications base", stated Anthony Vilgiate, Bivar's Vice President of Marketing. "With this product group's adaptation of RoHS materials and processes, over 80% of our most popular products are now offered in PB-Free configurations."

Over 571 different styles and sizes are available, including the company's Conductive Insert(TM), optional stainless steel channel inserts available for all standard 1/16" PC board card guide styles, to provide anti-static properties. Standard product pricing ranges from $ 0.10 each in production quantities, all immediately available from stock worldwide. Special colors or other configurations are available by special order (consult factory). For more information, contact Bivar, Inc. at 1-800-772-2377, or visit www.bivar.com.

About Bivar, Inc.

Bivar has established an industry-leading position in the electronic PCB assembly and hardware industry, providing low-cost solutions for problems associated with the assembly and manufacturing process. Founded in 1965, Bivar has continually developed unique designs for the installation of PCB-mounted devices and the packaging of PCBs in enclosures and systems. In January 2004, Bivar opened "BivarAsia", with manufacturing and customer service facilities in the city of Dong Guang, in the People's Republic of China, expanding their global capabilities with immediate product and service support. Bivar's Optoelectronics Division, BivarOpto(TM), features the world's largest selections of LED mounts and assemblies, and innovative LED devices, while the Bivar Enclosure and PCB Assembly Hardware Group provides an extensive selection of permanent mounts and wash-away spacers, PCB packaging products and hardware for use in the manufacturing process. Bivar obtained ISO9000 certification in 1998 and ISO9001: 2000 Certification in June 2004, supporting the company's consistent commitment to high quality products and customer service. For more information or to receive a catalog, contact Bivar, Inc., 4 Thomas, Irvine, CA 92618-2593; Tel: (949) 951-8808; Fax: (949) 951-3974; e-mail: Info@Bivar.com; Internet: www.bivar.com.

More from Machinery & Machining Tools