PCB Feeders increase pick and place efficiency.
Press Release Summary: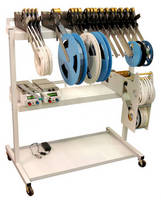 SMTrue(TM) Smart Feeders increase PCB assembly efficiency and accuracy of proprietary vision-based automated pick and place machines. Managed via Smart Feeder Database, each machine is assigned Unique Feeder ID. Software manages component information such as address, position, dimensions, count, tape index, and vibration. Designed to increase dependability by minimizing potential pick and place errors, feeders come in all types, including tape, bank, vibratory, matrix, and cut-tape.
---
Original Press Release:

Increase Pick and Place Efficiency While Reducing Errors with SMTrueTM Smart Feeders



Huntingdon Valley, PA - APS Novastar, LLC (http://www.apsgold.com) a global leader in the design, development, and manufacture of OEM solutions for short and medium run SMT and PCB assembly is pleased to announce the availability of new SMTrueTM Smart Feeders for use with its vision-based automated Pick and Place Machines. Available in all feeder types, including Tape, Bank, Vibratory, Matrix, and Cut-Tape, SMTrueTM Smart Feeders are reliable, economical, and provide improved efficiency, faster machine setup, and increased dependability by minimizing potential pick and place errors.

Managed through a Smart Feeder Database, each SMTrueTM Smart Feeder is assigned an Unique Feeder ID. The Smart Feeder Database manages all important component information including address, position, component dimensions, count and even tape index and vibratory control. The Smart Feeder Software has the ability to recognize the presence or absence of a feeder, including a checklist of previously programmed information, creating an error-free programming and changover environment.. SMTrueTM Smart Feeders also provide interactive feedback on when component count becomes low or a feeder runs out of components.

SMTrue Smart Feeders increase the PCB assembly efficiency and accuracy of APS Novastar's vision-based automated pick and place machines. Pick and place machine models that support the new SMTrue Smart Feeders include the free-standing LS60V, LS60V-LED, LS40V, and LE40V benchtop model.

"Our new SMTrueTM Smart Feeders are designed to provide our customers with an additional level of reliability and performance," says Tim Kardish, APS Novastar President and CEO. "In addition, the ease of operating these feeders will increase our users' efficiency, enable them to setup and changeover runs faster, and minize, if not eliminate, errors."

About APS Novastar

APS Novastar, LLC, established in 1982, recipient of a 2009 Frost & Sullivan Best Practices Award, is the global leader in the design, development and manufacture of OEM equipment for the short to medium run surface mount technology (SMT) and printed circuit board (PCB) markets. APS Novastar's products include stencil printers, automated pick and place robots, reflow ovens, wave and selective solder equipment, component counters and lead forming equipment. APS Novastar has installed over 20,000 product solutions in the telecom, defense and aerospace, security, transportation, automotive, medical device and diagnostics, personal computer, display and academic markets. For more information, visit www.apsgold.com or call +1.215.938.1000.

More from Printing & Duplicating Equipment