PC/104-Plus Module connects to Gigabit Ethernet networks.
Press Release Summary: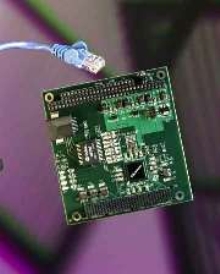 Based upon Intel 82541ER Ethernet controller, PPM-Gigabit PC/104-Plus-compliant module has direct 32-bit PCI interface to bus and supports 10, 100, and 1,000 Mbit/sec data transfers in both full- and half-duplex environments. Module will auto-detect and configure itself to speed of link partner. DSP architecture implements digital adaptive equalization, echo cancellation, and crosstalk cancellation. RJ-45 connector allows direct interface to network using CAT5 cable.
---
Original Press Release:

WinSystems' Connects PC/104-Plus Module to Gigabit Ethernet Networks


February 24, 2005 - Arlington, Texas - In response to customer demands for high-speed connectivity for industrial embedded applications, WinSystems introduces a PC/104-Plus-compliant module based upon the Intel 82541ER Ethernet controller. Designated the PPM-Gigabit, it is designed to offer flexible, high-performance Ethernet networking capability at 1000-megabits per second data rates. The PPM-Gigabit emulates the popular Intel Pro/1000 PCI board. This board and its Ethernet controller are well supported by a wide range of operating systems including Linux, Windows. CE and XP, FreeBSD, and DOS.

The PPM-Gigabit module incorporates an Intel (Sunnyvale, CA) fifth generation 82541ER integrated Ethernet controller. It has a direct 32-bit PCI interface to the bus and supports 10, 100, and 1000 megabits per second data transfers in both full- and half-duplex environments. The controller handles the gigabit traffic with low network latency and minimal internal processing overhead. The module will auto-detect and configure itself to the speed of the link partner. It incorporates the latest DSP architecture that implements digital adaptive equalization, echo cancellation, and crosstalk cancellation to improve performance in noisy environments. It will also support two-pair and three-pair cable downshift. The controller is designed to have independent transmit and receive queues to limit PCI bus traffic, and a PCI interface that maximizes the use of bursts for efficient bus usage.

The PPM-Gigabit module is fully PC/104-Plus-compliant supporting increased bus throughput necessary for higher-performance networking systems. Multiple PPM-Gigabit boards can be installed on a PC/104-Plus stack if additional Ethernet connections are required. Each PPM-Gigabit is shipped with an EEPROM that contains the configuration information describing the device architecture, address, interrupts, etc. Use of the EEPROM allows the board to be configured solely by the software offering a user-friendlier Ethernet adapter.

An industry standard RJ-45 connector is onboard to allow an easy and direct interface to the network using standard CAT5 twisted copper cables. LEDs provide a visual indication as to the status of the link and network activity and speed.

The module measures 90mm x 96mm (3.6" x 3.8") and weighs only 84 grams (3 ounces). The PPM-Gigabit requires only +5 volts at 270 mA (1.35W). It will operate from 00C to +700C.

PRICING AND AVAILABILITY
Delivery is from stock to three weeks. List price for the PPM-Gigabit is $249. For sales information, please list; WinSystems' Application Engineering Group at 715 Stadium Drive, Arlington, Texas 76011, (817) 274-7553, Fax: (817) 548-1358. WinSystems' e-mail is [email protected] and Website is www.winsystems.com

WinSystems' designs and manufacturers PC/104, EPIC, EBX, and STD Bus boards for use by OEMs and systems integrators worldwide. We have served the industrial market for 23 years.

The data sheet is available at pc104plus.com/products/pc104plus/ppm1g.html