PC/104 Circuit Board employs fingerprint sensors.
Press Release Summary: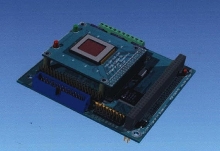 Stackable PC/104 Circuit Board integrates direct ISA bus interface to Fujitsu chip, and heart-beat sensor to prevent unauthorized access via false fingers. Capable of securing sensitive areas and machine operations, fingerprint sensor offers 300 x 300 pixel sensor array with 500 dpi resolution. Stand-alone fingerprint sensor board, part number PRV-1168X-01, and biometrics systems development platform, APP-0148X-01, come with CPU, hard drive, and power supply.
---
Original Press Release:
parvus Teams with Fujitsu to Implement New Biometrics Fingerprint Sensor Technologies

First PC/104 Circuit Board Solution Implementing Fujitsu Fingerprint Sensor Introduced by parvus

SALT LAKE CITY and SAN JOSE - June 6, 2002 - parvus Corporation today announced that in cooperation with Fujitsu Microelectronics America, Inc. (FMA), parvus is developing modular fingerprint identification hardware for embedded computer applications.

Intended for biometrics-based security, parvus' fingerprint sensor hardware implements Fujitsu's MBF Solid-State Fingerprint Sensors on the stackable, compact PC/104 form factor (3.550" x 3.775"). The embeddable board design also integrates a heart beat sensor (to prevent unauthorized access via a false finger) and direct ISA bus interface to the Fujitsu chip (versus only a parallel port connection).

"Embedded systems designers are now able to call upon parvus for building blocks and even complete biometrics systems based on the Fujitsu sensor, capable of securing sensitive areas and machine operations, as well as replacing cumbersome PIN numbers and passwords for electronic devices," said Troy Takach, CEO of parvus Corporation."

parvus is initially offering a stand-alone fingerprint sensor board (Part Number: PRV-1168X-01) and a biometrics systems development platform (APP-0148X-01) complete with CPU, hard drive, and power supply. Depending on industry needs, a variety of other biometrics board solutions will be rolled-out as standard product offerings.

"The fingerprint sensor market is truly only in its infancy, growing from an estimated $200 million last year to approximately $700 million worldwide by the end of 2004," said Douglas McArthur, director of Fujitsu Microelectronics' Biometric Sensor Product Group. "On a daily basis, systems developers inquire about available circuit boards implementing Fujitsu's fingerprint sensor for potential integration into their products. parvus Corporation has quickly responded to the call and produced embedded biometrics hardware based on Fujitsu sensor technology that can be easily used by embedded designers for a variety of applications."

Because parvus' biometrics fingerprint sensor board can communicate directly with the Fujitsu sensor via the ISA bus or via a parallel port interface, it is capable of local fingerprint collection and matching. A local database search engine for authentication (versus a distributed or networked model) can reduce design costs and simplify system hardware requirements.

BOARD FEATURES & SPECIFICATIONS

- 1.5cm x 1.5cm Sensor Area (With Ultra-hard Protective Coating)

- 300 x 300 Pixel Sensor Array (500 dpi Resolution)

- 5.0 Vdc Operation

- 8-bit PC/104 Bus Operation (16-bit PC/104 Provided) with ISA Bus Interface

- Eight Configuration Jumpers

- Software for Local Fingerprint Matching

- Parallel Port Interface

- Integrated Heart Beat Sensor

- Status LED Indicators

- Three Form C relays

- Dimensions: 3.550" x 3.775" (PC/104 Form Factor)

- Operating Temperature: 0 C to +60 C

ABOUT FMA

Fujitsu Microelectronics America (FMA), Inc. designs, markets and supports a broad range of advanced semiconductor and display products. For product information, please call 1-800-866-8608 or visit www.fma.fujitsu.com

ABOUT PARVUS

Formed in 1983, parvus Corporation is an ISO-9001 certified designer, manufacturer, and systems integrator of commercial-off-the-shelf (COTS) PC/104 products for embedded control environments. Its rugged, compact circuit boards and enclosure systems offer feature-rich, low-cost design solutions for military and commercial applications. For more information, visit www.parvus.com or call 801-483-1533.
More from Architectural & Civil Engineering Products