Pb-Free Chip Capacitors withstand high temperatures.
Press Release Summary: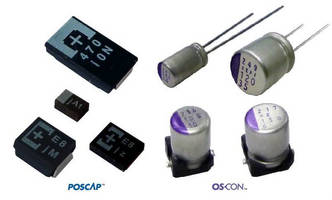 With anode of sintered tantalum and cathode of highly conductive polymer, POSCAP™ solid electrolytic chip capacitor is built for reliability. Rush current is guaranteed for 20 A, terminal plating is palladium and gold, and life expectancy at 105°C is 2,000 hr. OS-CON™, aluminum solid capacitor with high-conductive polymer or organic semiconductor electrolyte material, offers 1–2700 µF capacitance and stable ESR characteristics from -55 to +105°C. Select series offer 50,000 hr life at 85°C.
---
Original Press Release:

Panasonic Poscap(TM) and Os-Con(TM) Capacitors are Now Available to Distributor Channel Network



SECAUCUS, NJ – Panasonic Industrial Devices Sales Company of America, the advanced industrial components and electronic devices sales division of Panasonic Corporation of North America, announced the availability of its POSCAP™ and OS-CON™ capacitors to their distributor channel in North America.



"Panasonic POSCAP and OS-CON chip capacitors are highly respected within the electronics industry and offer a wide range of uses in digital equipment, household appliances, computer and IT-related hardware and industrial equipment," said Dan Litts, Senior Vice President, Panasonic Industrial Devices Sales Company of America. He continued, "There is a lot of interest in these high-end chips in North America and we are thrilled to meet this growing demand."



"POSCAP" is a solid electrolytic chip capacitor. The Anode is sintered Tantalum and the Cathode is a highly conductive polymer.  "POSCAP" has a low E.S.R. (Equivalent Series Resistance) level and excellent performance for high frequency while maintaining a low profile and high capacitance.  In addition, it has high reliability and high heat resistance.



For these reasons "POSCAP" is an ideal chip capacitor especially for digital, high frequency devices.



Features

- Lead free - Terminal plating is Palladium and Gold. It is completely lead free.

- Low profile chip capacitor

- Low impedance and low ESR at high frequency

- High ripple current capability

- Long Life 105°C 2,000 Hrs*

- Excellent noise-absorbent characteristics

- Excellent temperature characteristics up to .55°C

- The rush current is guaranteed for 20A



Applications

-  DC/DC Converters

-  Personal Computers, Camcorder, Digital Cameras

-  Portable Communications Devices and Base Stations

-  PDA (Portable terminals, etc.)

-  Navigation Systems

-  HD, MO, and DVD Drives



"OS-CON" is an aluminum solid capacitor with high conductive polymer or organic semiconductor electrolyte material. OS-CON acquires low Equivalent Series Resistance (ESR), excellent noise reduction capability and frequency characteristics. In addition, OS-CON has a long life span and its ESR has little change even at low temperatures since the electrolyte is solid.



Features

• Low ESR obtained by using conductive polymer electrolyte

- Suitable as a decoupling capacitor; its impedance has ideal frequency characteristics.



- Suitable as a smoothing capacitor, enabling miniaturizing switching power supplies because it allows large ripple current.



- Suitable as a backup capacitor for circuits that consume large current at a high speed.



• Pb-free Compliant.

• All the models are completely Pb-free and RoHS compliant products.

• Long life

- Some special series can expect 50,000h life at 85°C, suitable for industrial equipment.

• Superior temperature characteristics

- Its ESR has stable characteristics at a temperature from -55°C to 105°C suitable for applications used at low temperatures (under 0°C).

• Wide capacitance range from 1µF to 2700µF

- An array of various series covers wide capacitance range.

• High voltage, high reliability

- High reliability products have achieved the highest rated voltage of 35V and the guarantee of 85°C*85%RH(SVPD series), suitable for automotive and industrial equipment



Applications

As a smoothing, backup, and bypass capacitor used in various fields such as digital equipment, household appliances, computer-related hardware, and industrial equipment



POSCAP™ and OS-CON™ and registered trademarks of SANYO ELECTRIC CO., LTD. CORPORATION, an affiliate of Panasonic Industrial Devices Sales Company of America  and Panasonic Corporation.



About Panasonic Industrial Devices Sales Company of America

Based in Secaucus, NJ, Panasonic Industrial Devices Sales Company of America is the advanced industrial components and electronic devices sales division of Panasonic Corporation of North America -- the principal North American subsidiary of Panasonic Corporation and the hub of Panasonic's U.S. branding, marketing, sales, service and R & D operations.

 

Panasonic Industrial Devices Sales Company provides cutting-edge components that power a diverse range of devices, electronics components, optical drives, semiconductors, card readers, and mechanical devices including compressors and motors used by millions of people each day. The Panasonic Industrial Devices Sales Company website (www.panasonic.com/industrial) is designed to provide design engineers and technical specifiers with a one-stop resource for researching, identifying, locating and purchasing Panasonic's diverse range of Electronics Components.



Panasonic Editorial Contact:

Dan Unger, Panasonic 201-392-4571

dan.unger@us.panasonic.com



Panasonic Business Contact:

Sandra Jaouen, Panasonic 201-392-6157      

sandy.jaouen@us.panasonic.com

More from Fluid & Gas Flow Equipment