Accounting and Financial Software
Payment/Fulfillment Platform accelerates transaction processing.
Press Release Summary: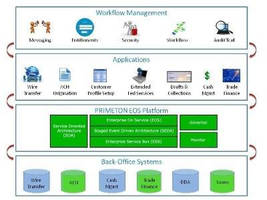 Built on SOA/SEDA platform, eGlobal Payment and Fulfillment Platform helps banks and financial institutions improve concurrent transactional processing for accelerated, real-time, and accurate payment processing while adhering to governmental regulations. Solution is built on technology that can handle massive currency short windows processing, both outside and inside firewalls, and offers capabilities to improve security, audit and compliance, settlement, and fulfillment – all on-demand.
---
Original Press Release:

Primeton Software to Debut eGlobal Payment and Fulfillment Platform at Retail Banking 2015 Show in Austin, Texas



AUSTIN, Texas -- Primeton Software of Irvine, Calif., the world's leader in transforming enterprise legacy transaction processing systems, will debut its new eGlobal Payment and Fulfillment Platform at this year's Retail Banking 2015 event being held March 9-11, 2015, in Austin, Texas, at Booth Number 37.



"Today's mobile and Web technologies, which are changing federal regulations and the need for concurrent payment processing, are challenging the banking industry to transform its core charter as the custodian of the economy's payment mechanism.  As pressure mounts from retail payment disruptors, including Apple Pay(TM) and PayPal®, banks and financial institutions are being forced to transform legacy payment platforms to meet today's financial needs," said Ariu Levi, president and CEO of Primeton Software.



"Enabling faster payments, managing payments risk and improving security, audit and compliance, settlement and fulfillment, all on-demand, requires an SOA/SEDA* Web services platform technology that can handle the massive currency short windows processing, both outside and inside the firewalls," Levi added. "Primeton Software's eGlobal Payment technology platform has proven that it can manage these technical challenges and support the digital banking transformation," Levi added.



Primeton's Web-based eGlobal platform empowers banks and financial institutions to transform the way they do business by improving concurrent transactional processing for faster, real-time and more accurate payment processing.  The eGlobal platform was also designed to help banks and financial institutions adhere to proposed governmental regulations for faster payment processing.



"Legacy client-server-based payments systems are difficult to integrate with and slow down payment settlement," said Craig Focardi, senior research director of CEB TowerGroup.  "We can make many types of payments in seconds via mobile devices, but payment settlement and funds availability still takes days.  Retail payment disruptors threaten to disintermediate the current convoluted payments networks if financial institutions do not upgrade their payments systems to speed settlement and lower transaction costs," he added.



The eGlobal platform delivers faster payments and manages payments risk.  It also improves security, audit and compliance, settlement and fulfillment, all on-demand.  It is an SOA/SEDA Web services platform technology that can handle the massive currency short windows processing, both outside and inside the firewalls, while helping banking institutions adhere to new and proposed Federal regulations for fast payments and risk management.



Built on Primeton's SOA/SEDA platform, the eGlobal platform delivers transaction integrity, with extensive capabilities, including:



--  Cash Management Front End

--  Wire Transfer

--  Automated Clearing House (ACH) Initiation

--  Customer Enrollment

--  Mobile/Web-based Solutions

--  Workflow Management

--  Real-time Audit

--  Auto Trail

--  Security

--  User Entitlements

--  Regulatory Compliance

--  Data Analytics

--  Compatibility with all major mobile platforms



In its booth, Primeton will provide a demo of its eGlobal Payment and Fulfillment platform for transaction processing, including Cash Management, Wire Transfer, Automated Clearing House (ACH) and Customer Enrollment mobile/Web-based solutions.  Integrated into these functions are Workflow Management, Auto Trail, Security, and Entitlements.



About Primeton Software

Primeton Software is the world's leader in transforming enterprise legacy transaction processing systems.  Its applications are the choice of 1,100 enterprises and financial institutions in 43 countries, including Alibaba.com, ICBC, Bank of China, and China Mobile.  Its proven technologies automate and process more than 200 million daily transactions. Primeton's solutions help organizations smoothly migrate from legacy transaction processing systems to current technologies.  Visit www.PrimetonSoftware.com



*Service-Oriented Architecture and Staged Event-Driven Architecture



Copyright 2015 Primeton Software Inc.



PR Contact:

Teri Sawyer

PR for Primeton Software

TeriSawyer@me.com

714-801-1687

More from Optics & Photonics