Pavilion Architectural Bollard offers SiteSync wireless control.
Press Release Summary: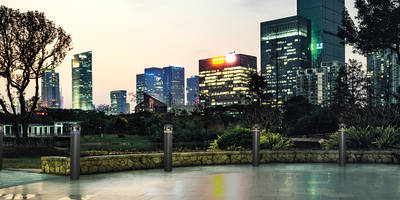 Pavilion Architectural Bollard comes with NEMA 3R dual outlet receptacle enclosure and color changing RGBW accent. Unit is equipped with integral recessed one or two-Gang receptacle outlet box. Product offers motion sensing and battery backup configurations and efficacy of 100 delivered lumens per watt. Featuring integral power station functionality for optional electrical and USB charging, bollard is offered in round and square form factors with 28 configurable optic and top cap combinations.
---
Original Press Release:
Pavilion Bollard Family from KIM Lighting Features Integrated Power Pedestal and RGBW Accent Ring
Hubbell Lighting, a global leader in lighting innovation, introduced the Pavilion family of architectural bollards by KIM Lighting. Pavilion redefines the bollard category with comprehensive best-in-class design, performance, and features.
The Pavilion bollard features both a NEMA 3R dual outlet receptacle enclosure and a color changing RGBW accent. In focus groups with architects and designers responsible for corporate, healthcare and educational campuses, KIM Lighting identified how bollards can be a strategic design asset for "front of house" applications.
The Pavilion features an integral recessed one- or two-Gang receptacle outlet box, which enables the integration of proximity key card readers or disabled persons actuator buttons. To support the needs of PA systems or emergency management, the Pavilion can also be configured to host a 3" speaker.
KIM Lighting established an industry first with the introduction of the RGBW Remote App for the Lightvault 8. Pavilion builds on this interoperability with an RGBW luminous accent which enables an infinite palette of color choices on demand. While this functionality tees up the Pavilion to act as an indicator for walkways, parkways, etc., it also empowers management to change color and mark holidays, special events and much more to enhance and customize the environment.
KIM Lighting is an award-winning brand known for innovative products that excel in both performance and function. Pavilion continues this proud tradition by establishing a new benchmark for bollard efficacy in excess of 100 delivered lumens per watt.
Pavilion leverages Hubbell's high performance site and area optics to produce true IES distributions with zero up-light. It can also be configured with louvers for quiet illumination as well as diffuse lensing for soft shadows and improved vertical foot-candles.
Pavilion's controls offering ranges from motion sensing to advanced wired or wireless solutions. The advanced distributed intelligent lighting controls provide a complete suite of California Title 24 compliant energy saving solutions.
Hubbell Control Solutions' SiteSync is an option for the Pavilion, offering flexibility, ease of design, installation simplicity and the reliability of a wireless architecture. With its pre-programmed approach, installation of SiteSync is a quick and easy process, greatly reducing the complexity, time and cost compared to typical field commissioned systems.
The Pavilion was designed to be installation friendly. Landscape architects will be thrilled to learn that the rotation of the Pavilion's shaft is adjustable in the field, adding a level of forgiveness for contractors. This feature is truly unique for a square form factor bollard to further contribute to ease of installation.
The Features and Benefits of the Pavilion include:
Both Round and Square form factors with 28 configurable optic and top cap combinations
U0, True IES, or diffused symmetric or asymmetric distributions
Optional Bluetooth enabled RGBW color luminous accent
SiteSync wireless control, motion sensing and battery backup configurations
Integral Power Station functionality enables optional electrical and USB charging, speaker integration or even a disabled persons actuator button
Please visit the product webpage for detailed information: http://www.kimlighting.com/microsite/pavilion/index.html
About Hubbell Lighting
Hubbell Lighting is elevating the lighting experience. Empowered by lighting solutions that integrate seamlessly into their environment, save energy, provide improved quality of light, deliver return on investment and armed with Hubbell's unflinching support, its customers are able to think differently about how, where, and when they can use light. As one of the largest lighting fixture manufacturers in North America, it features a suite of brands that provide a full range of indoor and outdoor lighting products serving the commercial, industrial, institutional, and residential markets. Learn more at hubbelllighting.com
More from Communication Systems & Equipment