Paul N. Gardner Introduces the New Phascope Paint For Measurement Capturing
Press Release Summary: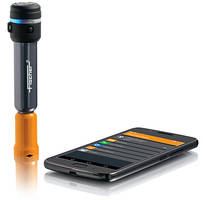 The new Phascope Paint from Paul N. Gardner for measurement capturing can be viewed on a smart phone or tablet and can capture and analyze data. The probe is small and light weight. 
---
Original Press Release:
New Product Announcement: Introducing the New Phascope Paint
Easy, Convenient, Fast and Non-destructive Coating Thickness Measurements
For Immediate Release: The Phascope Paint is a probe in pen design. Measure non-destructive coating thickness of non-conductive coating materials on steel or iron and on non-ferrous metals by using the Phascope Paint.
Use the probe Phascope Paint for measurement capturing. Use the App Phascope Paint for viewing, analyzing and reporting data on your smart phone or tablet.
The measurements with the Phascope Paint conform to standards DIN EN ISO 2360, ASTM D7091, DIN EN ISO 2178 and DIN EN ISO 21968.
Features
·        Ideal for on-site applications due to the small size, light weight, robust and durable probe design
·        Easy operation of the App Phascope Paint on smart phone or tablet
·        Manufacturer's certificate for the Phascope Paint included in the scope of supply
·        Specimen's shape and permeability have a comparatively low influence on the measurement results
·        Conductivity compensation for measurements on non-magnetic substrate materials
·        Applicable for measurements on both smooth and rough surfaces
·        Item No. DF-833010
More from Thermal & Heating Equipment