Pattern Labeling is equipped with spring-loaded impact press.
Press Release Summary: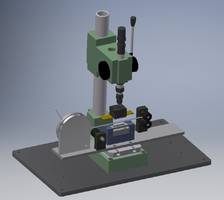 Featuring single character wheels, semi-automated systems and 5-mil aluminum tape, Pattern Labeling can accommodate standard tape widths such as 13/32 in., 5/8 in. and 7/8 in. Suitable for high-volume labeling applications, product comes with spool feed for material, friction rollers and manual knob. Pattern labeling can accommodate wider range of sizes and tape guide arrangements.
---
Original Press Release:
Pattern Labeling to Cast Impressions
Leading Marks LLC announces a package for pattern labeling that improves legibility for cast-in identification, and provides cost savings through labor and material costs. A marking press and a custom designed accessory package impact legends in one stroke of the press rather than rotating wheels one character at a time.
The core of the package that hammers in the legends is a spring-loaded impact press. These units are proven marking devices with low-maintenance requirements. While manual systems are most common for replacing traditional pattern labeling devices with single character wheels, semi-automated systems are available for high-volume labeling requirements.
A steel type arrangement embosses the characters into foil tape. The male type is mounted in a steel chase, nested on a manual feed assembly. Included in the feed assembly is a spool feed for the material, friction rollers, and a manual knob for advancing the material. Automated systems included more advanced material feed arrangement.
Three standard chases accommodate a range of character sizes. Chase assemblies can be interchanged to accommodate a wider range of sizes and tape guide arrangements. Character sizes range from 1/8" up to 3/4" high. Standard alphanumeric characters, as well as symbols and logo are available and quoted upon request.
The accessory package is designed to accommodate three standard tape widths; 13/32", 5/8" and 7/8". The 5-mil aluminum tape comes with rugged adhesive that is more pliable on curved surfaces than plastic tapes common to the pattern labeling process.
Leading Marks is a proven supplier for marking and traceability requirements. Our product line includes a variety of direct-part marking systems, manual and electronic ink marking devices, thermal transfer label printers, preprinted labels, nameplates and other bar coded devices. A mobile app completes the traceability requirements for industry with data-collection, work-flow engine triggers, and reporting accessory package.
To learn more visit http://www.leadingmarks.com/marking/foundry/, or call 412-366-4733.
Contact:
Laurie Barcaskey
Leading Marks LLC 736
West Ingomar Road, #707
Ingomar, PA 15127
Tel. 412-366-4733
Fax. 412-366-4744
Email: laurie@leadingmarks.com
Related