Passive Intermodulation Analyzer addresses PCS/AWS field testing.
Press Release Summary: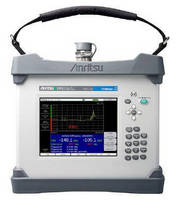 With available frequency option, PIM Master MW82119A handheld analyzer provides field solution for measuring and improving PIM performance in both PCS- and AWS-band networks. Distance-to-PIM (DTP) technology lets operators find and eliminate PIM sources located inside feed system or beyond antenna. PIM Master MW82119A-0193 can transmit 2 test tones in PCS downlink band or transmit one test tone in PCS downlink band and second in AWS downlink band. Trace overlay feature is also included.
---
Original Press Release:

Anritsu Company Introduces PIM Master(TM) Option to Address PCS/AWS Field Test Market



- New Option Creates Cost-effective Single Solution for Measuring PIM in Both PCS and AWS Networks -



MORGAN HILL, Calif. --  Anritsu Company introduces a new frequency option for its industry-leading PIM Master MW82119A handheld PIM analyzer that is a cost-effective, field solution for verifying low PIM performance in both PCS and AWS networks. This new PIM Master offers field engineers and technicians working for network operators and installation companies a single-instrument solution for accurately measuring and improving the PIM performance of both PCS- and AWS-band systems.



The PIM Master MW82119A transmits two high-power test frequencies into the system under test and measures the magnitude of intermodulation products generated. With Anritsu's enhanced resolution Distance-to-PIM (DTP) technology, operators can quickly find and eliminate PIM sources located inside the feed system, or beyond the antenna to improve site performance.



The new PIM Master MW82119A-0193 is able to transmit two test tones in the PCS downlink band or transmit one test tone in the PCS downlink band and a second test tone in the AWS downlink band. Previously, two separate PIM analyzers were required to provide this multi-band test capability. The MW82119A-0193 accomplishes this in a single instrument, allowing customers deploying PCS and AWS networks to more accurately measure system linearity by choosing test tones that match actual site conditions.



The PIM Master MW82119A includes the ability to test with two 40W test tones, enabling the PIM Master to locate faults that conventional 20W test solutions might miss, such as intermittent and power-sensitive PIM problems. A trace overlay feature allows real-time comparison between the active DTP measurement and a previously saved DTP trace. This capability can be used to compare "before and after" results on a site or to clearly show the distance between an unknown PIM source and a "PIM marker" placed on the antenna radome.



As with all Anritsu handheld test solutions, the PIM Master MW82119A is designed for extreme environmental conditions. The analyzer can withstand transportation shock, vibration, and harsh outdoor test conditions associated with cell site deployment, installation, and maintenance.



Option 193 has a delivery of 8 weeks ARO. The U.S. starting price is for MW82119A PIM Master with Option 193 is $22,995.



About Anritsu

Anritsu Company (www.anritsu.com) is the United States subsidiary of Anritsu Corporation, a global provider of innovative communications test and measurement solutions for more than 110 years. Anritsu provides solutions for existing and next-generation wired and wireless communication systems and operators. Anritsu products include wireless, optical, microwave/RF, and digital instruments as well as operations support systems for R&D, manufacturing, installation, and maintenance. Anritsu also provides precision microwave/RF components, optical devices, and high-speed electrical devices for communication products and systems. With offices throughout the world, Anritsu sells in over 90 countries with approximately 4,000 employees.



To learn more visit www.anritsu.com.



CONTACT: Katherine Van Diepen, Director, Marketing Communications, Anritsu Company, 408.778.2000 ext. 1550, katherine.vandiepen@anritsu.com; or Patrick Brightman, 3E Public Relations, 973.263.5475, pbrightman@3epr.com

More from Agricultural & Farming Products